When the End Comes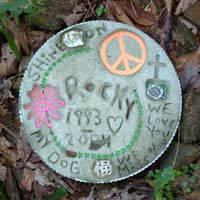 All too soon the young puppy we introduced into the family home is old and frail and it is time to say goodbye. Sometimes this is earlier than their allotted time due to illness or accident. For the sake of any children in the home and as you are bound to grieve for your canine pal it is best to make plans ahead of that final day.
Final Sleep
It would be too much to ask for our dog to fall asleep never to wake. Most times it is the owner who has to make the decision that the time has come to say goodbye. Do not put off this decision, if the light in his eyes has diminished and he no longer has a good quality of life you have to be brave and contact your vet.
Home or Away
You can either ask your vet to visit your home or if you choose go to the surgery where the dog will be given an anesthetic so strong he will slowly slip away. If you choose for this to be done I the surgery it can be arranged out of hours and you can be left with your grief to say goodbye. If you feel that you will have to make this decision before too long telephone you veterinary surgery and ask about their service. It is better to be aware of the system as in your grief you may not be able to grasp what is available or may make a choice you alter regret.
Final Resting Place
You may wish for the vet to dispose of your dog's remains. However, there is a choice of the final resting-place. You can take your dog home and bury him in his favourite place in the garden, perhaps with a toy and his blanket. If you do decide on this option think carefully, are you intending to move home before too long? Would you be happy to leave Fido in his final resting-place many miles away from his family? Also, ensure his grave is dug as deep as possible, at least a metre as foxes have been known to dig up graves which could be extremely distressing. A few stones on top and your favourite flowers would be a suitable reminder of your family friend. It is possible to buy commemorative headstones for pets.
Pet Cemetery
It is now popular to have our dogs interred in a pet cemetery. These are very pleasant areas where we can visit our pets and are ideal for people who do not have a garden in which to inter their family friend. Ask at your veterinary surgery for your nearest cemetery.
Cremation
Cremation is becoming more fashionable among pet owners and the cremation of a pet is treated with as much ceremony and dignity as that of an owner. You can leave your vet to arrange this service, as they will have arrangements with a crematorium to collect the deceased dogs and return the ashes at a later date.
What many people do not know is that you can take your pet to the crematorium and wait while he is cremated. There are number of pleasant caskets available or you could have a simple box that is a temporary home for the ashes until you spread them in a suitable place. If you choose to keep the casket a nameplate can be engraved with the dog's name. The pet crematorium also has a chapel of rest where you can say goodbye.
Cost
Be prepared for the expense of burying or cremating your dog, it is not part of pet insurance. Whatever your choice contact the crematorium or cemetery ahead of time and find out the approximate cost and hours of opening.
Bereavement Counselling
There are bereavement councilors available as it is now acknowledged that we grieve for a close family pet very much as we would a member of the family.
Saying Goodbye
Arranging your dog's final resting-place is the last service you can give to a faithful family friend who will be remembered forever.
You might also like...