Grooming Your Dog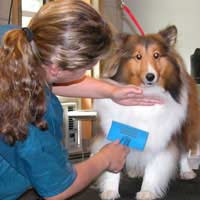 No matter your breed of dog, they all need to be groomed. Grooming consists of brushing, bathing, nail trimming, ear cleaning and brushing their teeth.
As early as possible in a puppy's life, owners should work on getting their dog used to being touched all over - especially the paws, ears and mouth/teeth areas. This will help the dog become accustomed to having someone trim their nails and clean their teeth and ears, resulting in less stress for everyone.
Brushing
Brushing out your dog's fur, whether it is long or short, wiry or downy-soft, is an absolute must, not only for appearance's sake, but also to help maintain good hygiene. "This helps keep his or her hair in good condition by removing dirt, spreading the natural oils throughout the coat, preventing tangles from forming and keeping the skin clean and free from irritation," according to the Community Animal Welfare Society.
Long-coated dogs such as the Cocker Spaniel, Bernese Mountain Dog, Shih Tzu and Old English Sheepdog need to be brushed out a couple of times a week as their fur is prone to matting, which can pull on the skin and lead to hot spots and eventually to a skin infection.
Double-coated dogs, such as the German Shepherd, Siberian Husky and Shetland Sheepdog, shed in great volumes twice a year. In the spring they shed their thicker winter coat, which makes way for a thinner summer coat. They then shed the thin coat in the autumn and replace it with the winter coat. Each shedding cycle can last up to a month.
Suggested brushing tools for longhaired and double-coated dogs include a wire slicker brush, a comb with fine and coarse teeth as well as a detangling comb.
While brushing out a dog's fur all year long is important, is it particularly important during the two shedding phases, as it helps get rid of the dull, dead fur more quickly. It also saves your house from being over-run by fur-balls.
Shorthaired dogs such as Labrador Retrievers, Beagles and Rottweilers also need to be brushed on a regular basis as they also have two types of fur. Special care needs to be taken on thin-skinned dogs, such as Greyhounds and Weimeraners - they need to be brushed with a soft or blunt-bristled brush.
Bathing
It is best to bathe dogs on an infrequent basis as too much bathing can dry out their skin and coat. However, if you choose to regularly bathe your dog - once a month at most - use dog-specific shampoo that is aloe-based and conditioners that are also high in Omega fatty acids - these products will help restore some of the natural oils that the bath strips out. Do not use shampoo formulated for people, including baby shampoo.
Before any trip to the tub can take place, comb out the mattes or tangles from the dog's fur as the water will make them worse.
When lathering up, keep all soaps out of a dog's eyes and ears, even while rinsing.
Nail Trimming
How often you trim nails depends on how your dog walks and how often your dog walks on hard surfaces, like concrete, which help to keep the nails naturally short.
Use clippers designed specifically for a dog. Do not use human nail trimmers.
Nail trimming is the toughest part of grooming your dog because if you cut a nail too short, you cut into the quick, which houses the foot's blood and nerve supply. If the dog has light/clear nails, the quick is easier to see, as it is the darker portion of the nail. However, if the dog has dark-coloured nails, it is virtually impossible to see the quick.
If you do happen to cut the quick, it will bleed - a lot. Clot it with styptic powder or baking flour.
One way to avoid the quick is to trim back the nail a little bit at a time.
Ears
Check your dog's ears for any odour or gunk that may be growing in the ear, especially if your dog has droopy ears. Long-eared dogs are prone to ear infections. If there is any sign of infection, contact your vet immediately. Do not try to clean it out with water - too much moisture may have been a contributing factor to the infection. Always use a dog-specific ear cleaner - your vet can recommend the best one for your dog.
Teeth Cleaning
Just as people get cavities and periodontal disease, so too do dogs. And just as we regularly brush our teeth to prevent such things, dogs too need to have their teeth cleaned.
Use dog-specific toothpaste, not human toothpaste, along with a soft-bristled toothbrush. There are also numerous teeth-cleaning dog treats on the market to help supplement the brushing.
Hire a Professional
There are some circumstances, which dictate we send our dog to a professional groomer for the best results. Occasions include when your dog requires a particular hair cut as well as when your dog is too squirmy for you to groom him or her properly, especially when it comes to the nail trimming. Check with your vet for grooming services as well as recommended groomers.
You might also like...