Caring for Your Dog in Winter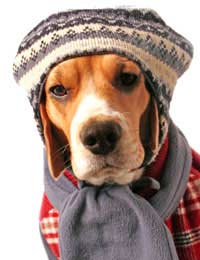 Romps in the freshly fallen snow can be a lot of fun for your dog – and you – but winter can also bring with it a lot of hazards for your canine companion.
The most common ailment to afflict dogs in the winter is cracked and sore pads. The cause of which is de-icing salt. The salt dries out the pads which causes the cracks and soreness.
To prevent this, clean off your dog's feet as soon as you return from your walk. Ensure you also clean in between the toes.
There are also products you can put on your dog's pads prior to going on your walk. One is baby oil, another is an all-natural paw protector found in most pet shops. However, you still need to clean off their feet upon your return or else dirt and salt will be tracked throughout your house.
If these paw protectors don't work, and your dog will wear them, put doggie booties on him.
Grooming
The fur between the paw pads must be kept short all winter long. If the fur is left too long, snow will stick to it and ice balls will form, which are uncomfortable for dogs.
Short hair around the pads also helps dogs with traction on the ice.
Long nails, like long paw fur, will impede a dog's traction on the ice. "[The long nails] force the dog to walk on the backs of his feet, splaying his toes," according to the Dog Owner's Guide. "The greater the space between his toes, the more snow will go up between them."
Never clip a dog's fur off in the winter – no matter how difficult it is to keep clean. The coat provides much needed warmth.
When bathing him, ensure he is completely dry before letting him outside for a toilet break.
Antifreeze
Ethylene glycol is a toxic ingredient found in most antifreeze. Just a few licks off yours or a neighbour's driveway can cause severe damage. So toxic is the ethylene glycol to the dog's nervous system and kidneys – that its symptoms – depression, lack of co-ordination, vomiting, diarrhea, increased thirst and the onset of seizures – occur within an hour of ingestion. Without immediate treatment, antifreeze intake can cause death.
Some antifreeze now contains propylene glycol, which is still a toxin, but it does not affect the kidneys. However, it does attack the nervous system, but not with as much severity as ethylene glycol.
Following your walk, thoroughly clean your dog's tummy, legs and paws as he can still ingest the antifreeze by licking it off his fur.
Puppies, the Elderly and Compromised Health Dogs
Puppies are unable to tolerate the cold as well as healthy adult dogs can. Therefore, it is important to not leave him outside for extended periods of time. This also includes going for long walks. Until the puppy is older and able to regulate his body temperature, walks should be kept to a short jaunt – just enough to get the puppy some exercise and relieve himself.
If the weather is too cold for you, then it's definitely too cold for your dog, puppy or not. So don't feel guilty about skipping the walks that day. Your dog will thank you for it.
While dogs can't tell you it's time to go inside, signs they are ready to head indoors include: whining and shivering; he becomes anxious, slows down or stops walking all together.
If you have an older dog or one afflicted with arthritis, winters are particularly difficult as the cold temperatures cause their joints to become stiff and tender. The stiffness results in awkward or restricted mobility, so be careful in letting your dog go up/down the stairs.
Frostbite
Frostbite afflicts the extremities (toes, tail, ear tips and scrotum) and causes the tissue to die. You can tell your dog is suffering from frostbite if any of these areas appear pale and cold to the touch.
Warm the affected area(s) slowly with warm water, but do not rub the frostbitten tissue as the ice crystals can cause further damage to the frostbitten tissue. Once the dog is warmed up, bring him to your veterinarian – while wrapped in blankets to maintain his warmth.
As the frostbitten tissue heals, it will turn red and become swollen. This should occur within a day or two. If not, contact your veterinarian immediately.
Hypothermia
This occurs when the dog's body temperature drops below its normal 101.5 to 102.5F. "Substantial lowering of the [body] temperature interferes with the metabolic functions of the body and affects the internal organs," reports the Dog Owner's Guide.
As the dog's body temperature drops, it will start to shiver to keep himself warm. The increased muscle activity shifts the blood supply away from his extremities and to the internal organs.
"Mild hypothermia causes an increase in blood pressure and heart rate, but if the time and severity of heat loss continues, heart rate and blood pressure decline and cardiac arrhythmias or cardiac arrest can occur," according to the Dog Owner's Guide. "Severe hypothermia leads to respiratory depression, lethargy, lack of co-ordination, paralysis and collapse."
Rapidly warm the dog with warm towels, heating pads or a warm bath to treat mild hypothermia. If the dog suffers from a severe case of hypothermia, the vet will need to warm the body via warm intravenous fluids.
In order to survive winter, you don't have to go outside everyday, especially in the extreme cold. If you're uncomfortable, your dog will be too.
Don't be afraid to dress your small or shorthaired dog in a winter coat or boots for added protection from the elements. And never leave your dog unattended outside.
You might also like...