First Aid for Your Dog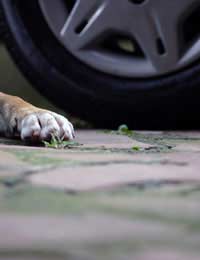 When owning a dog it is imperative that you know how to administer basic first aid. To be able to act immediately if a dog is injured or is taken ill means that you will save valuable time until a vet is able to assist. You may even save the animal's life by your prompt action.
Be Prepared
Always have you vets telephone number with you. Carrying a mobile phone when you are out with your dog will not only help if you have a problem but can be used to call for veterinary help if your dog or any other should collapse or be injured while away from home.
Accidents
Keep your dog on its lead when near a road. Even the most obedient dog can be distracted and dash in front of an oncoming car. If this should happen be aware of other cars and do not dash after your dog. Call for help from passersby to help control the traffic while you care for your pet. If you do not have your vet's telephone number or are too far from home call the police and tell them a vet is needed. Clip a lead onto the injured dog just in case he makes a dash for freedom. He will be very frightened and may, out of character, try to bite anyone who is approaching him. If necessary use a scarf or tie to muzzle the dog but be aware that his airways may already be restricted and a muzzle could cause further complications.
Recovery position
The dog should be placed on his side and covered to keep warm until help arrives. If the decision is made to transport him to a veterinary surgery then he should be transported on a makeshift stretcher made from a coat or blanket. Be aware that the dog may have spinal injuries and if this is the case he should be placed onto a solid board. Even though the dog seems fine have him checked by a vet as he may have internal injuries.
Drowning
Do not put your own life in danger by jumping into a river or the sea to save a dog. Hold the dog upside down so that any liquid can run from his mouth. Lay him on his side and give artificial respiration if breathing has stopped. Open his mouth and pull the tongue forward and check that there are no blockages. Stretch put the head to give a straight passage for the windpipe. Close the mouth and blow in through his nose about twenty times. Push on his lungs just behind the front legs fifteen times then follow with two breaths through his nose. Continue with this whilst someone else calls for a vet.
Dog Fights
If your dog is in a fight do not step in to help as you could be bitten. Try to distract the dogs then pull your dog away as the owner of the other dog does the same. If your dog has puncture wounds and is bleeding put a clean pad of fabric onto the wound and press hard to stop the flow of blood. Get the dog to a vet as soon as possible as infection will set in and antibiotics are often needed.
First Aid Kit
Although you can purchase a first aid kit for your dog it is very easy to assemble and make your own kit. The kit is not needed to treat a dog but to aid an injured pet until veterinary help arrives. Items needed in your first aid kit are:
A crepe bandage
Cotton wool
A towel
A spare dog lead
A muzzle or tape to use as a muzzle
Absorbent pads
Blunt end scissors
Surgical tape
A card with emergency contact numbers
You might also like...
nelson,loveridge - Your Question:
Hello I found this site very useful im studying animal care at Rotherham collage didinton collage the things on this site have helped me understand and are put in words that my self and y class are able to understand thanks nelson loveridge
---
Our Response:
We are glad the site was useful to you.
Dogland
- 1-Mar-16 @ 12:05 PM
hello I found this site very useful im studying animal care at Rotherham collage didinton collage the things on this site have helped me understand and are put in words that my self and y class are able to understand thanks nelson loveridge
nelson,loveridge
- 29-Feb-16 @ 1:33 PM