When You Can't Look After Your Dog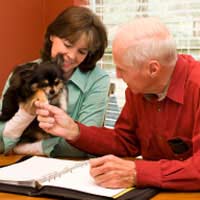 No one can look into the future and see what is in store for us or our pets. There are times in our lives when we can no longer take care of our pets and we need to know what we can do to help them.
Downsizing
There are times when we have no choice but to think of rehoming a family pet. It is not something that should be considered lightly. After all, the pet is going to be upset as well as the rest of the family. Redundancy and divorce are two of the major reasons why pets are rehomed these days. With only one parent in the home who has to go out to work it is not always possible to look after a pet and he is left alone all day long.
Illness
You may live alone and because of illness not be able to care for a pet any longer. Before making the distressing decision to give away your family friend consider all options available to you.
Friends and Neighbours
Do you have friends, neighbours or family that could step in and help out while you are working or in hospital? If they could perhaps exercise the pet and feed him it would take the burden of responsibility off you for a while.
Food and Veterinary Care
If it is the expense of caring for your pet that is the main reason for you deciding to get rid of him then investigate cheapest ways of covering this expense. Pets do not need to have the top of the range and the most expensive food. Supermarkets own brand is usually adequate and competitively priced. Look out for special offers and apply for samples from manufacturers of animal foodstuffs.
There are also charities such as The Blue Cross and The National Canine Defence League are just two charities that offer free veterinary care for owners who are not able to afford private vet fees. There are other charities, some local to where you live, who can offer help and advice.
If your problem is short term speak to your vet about paying off any costs over a set term. Vets will not want to lose a valued customer over the cost of an invoice.Speak to friend and neighbours about vets in your area. Perhaps your vet is more expensive than others and it would be advisable to change to a cheaper vet. Cheap does not always mean that you will get an inferior service.
Children
If you have children get them involved in raising cash to help keep the family pets. Perhaps selling goods at a boot sale or selling their unwanted toys on an internet auction site would help. If they are old enough, perhaps a paper round or they could forgo part of their pocket money and this could be used to cover the expense of owning a pet?
Breeder
Speak to the breeder that sold you your family pet. They may be able to take back the animal and find it a good home. Never expect to earn money for returning your pet to a breeder even if it was an expensive pedigree animal. To have a loving and caring person take on your pet for the remainder of its life is all that you should expect.
God Parents
A solution that is becoming very popular is to have a godparent for your pet. This is especially relevant if you are elderly and your pet may outlive you. This godparent could be someone who is known to the pet who can step in and help out in times of need but will also take on the full time responsibility when you are no longer able to car for him.
Charities
If all else fails and the family pet needs to be rehomed contact a reliable charity who will take the pet and give it a good home for the remainder of its life. The Cinnamon Trust is such a charity that is helpful to the elderly and the infirm who may not be able to look after their beloved pet any longer.
You might also like...
nothing useful on this page at all
dave
- 1-Aug-14 @ 4:43 PM