Should My American Bulldog Wear Muzzle in the Garden?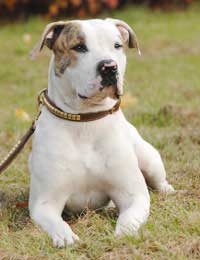 Q.
I was recently visited by a police officer over an incident and he told me that I had to make my American Bulldog wear a muzzle, not only when I am out walking him, but even in the back yard to my home which is fenced off and secured.
Is this true? I thought British law stated the use of a muzzle in public places not on private, my own ground. This is crucial information to me at the moment as he said he would remove my dog if I didn't comply.
(R.S, 12 March 2009)

A.
It looks as though the policeman thinks that your American Bulldog is a Pit Bull Terrier. But if your dog is considered a Pit Bull Type you may have problems.
Rules surrounding pit bull terriers and the ownership of them can be quite complex. Why would anyone wish to own a banned breed to begin with when there are over 200 perfectly fine specimens of dog breeds in the UK already?
Points
First of all we have to consider a few points:
Is your dog a pure breed pit bull terrier?
Is it registered?
Or, is your dog a 'pit bull' type?
As the ownership of Pit Bull terriers has been banned for some time it is highly unlikely that your dog is a pure breed PBT. Even the ownership of a Pit Bull type of dog can be unlawful so you have to be very careful.
Conditions of Ownership
The conditions concerning a pit bull type are quite strict – even to the point of you considering having the dog put to sleep which is totally abhorrent to a dog lover.The dog must be spayed or neutered and micro chipped. He or she must be tattooed and also have insurance.
You must not breed the bitch or use a dog at stud.
You must not swap the dog or offer him for sale or advertise him.
You must not abandon the dog or allow him to stray.
You must not give the dog away as a gift.
Your dog must be on a lead and muzzled in all public places.
Consequently if you are following all the above rules the policeman cannot interfere with your dog in a private garden and the dog does not have to wear a muzzle on your private property.
Precautions
Take precautions to care for your dog by checking that you are the legal owner of the dog and that he or she is registered. It is against the law to have an unregistered Pit Bull Terrier or even a Pit Bull Terrier Type. Even by enquiring with the police about registering your dog you could find he is seized.
Perhaps have a higher wall built around your property to stop prying eyes and to stop any chance of your dog straying. Also for some reason there are members of the public who will attempt to steal such dogs as they are prized for baiting and fighting.If you have a breed club then ask for their advice on this matter as they may have a canine legal expert that they call on in cases such as yours.
DEFRA can give you full advice on owning a Pit Bull Terrier or Pit Bull type and it would be in your interest and the interest of your dog to be armed with the facts in case your policeman comes calling again.
You might also like...
I have an American Bulldog and I'm not sure if I'msupposed to have him wear a muzzle can someone tell me.
I know of a American Bulldog that walks in the same field as other dog walkers do. She isn't muzzled and is on a extendable lead. My son was warned by the owner that she's nervous with children! Should this woman have this dog muzzled?
Theapple
- 31-Jul-17 @ 1:12 AM