Going on Holiday: Boarding Your Dog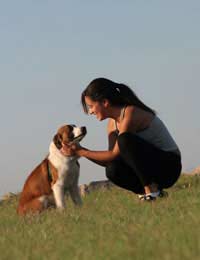 Going on holiday is meant to be a relaxing experience. But when you have a dog or two, who are not going on holidays with you, time away from them can be stressful – for you and the dog – unless you have done your due diligence and set up the perfect break for you both.
In-Home Care
Having someone, whether it is a friend, family member or professional pet sitter, stay in your house while you are away is one option. For people who go this route, they do so because it creates the least amount of disruption to the dog and his routine.
If you are able to get a friend or relative, either of which is an ideal candidate, to take on this task for you, he/she will no doubt love your dog and be somewhat familiar with your dog's schedule and habits. Your dog will already be comfortable with your choice so both you and your dog will have good holiday.
Another place to look for in-home dog care is via a professional pet care provider. You will now have to deal with a stranger looking after your dog and living in your house, therefore, a thorough screening is required.
Questions you need to ask potential house and dog sitters include: are they bonded and insured? They must be, as this gives you peace of mind knowing the caretaker does not have a criminal record. Do they like dogs? Make sure any caretaker you hire likes your dog and your dog likes him/her, which you can tell just by watching them interact together. Get references and contact them.
When choosing the caretaker, you must also make sure they have a similar work schedule to yours so he/she is able to meet the needs of your dog.
No matter who you hire while you are away, you need to provide them with as much information about the dog's routine as possible. Leave lists of information on the fridge that details the dog's feeding schedule, which includes how much he gets per meal and at what time; where the food is located; what brand the food is in case more needs to be purchased while you are away; details of any medication that must be administered to the dog, including when and how; emergency contact information that includes your veterinarian and anyone else who can potentially help in an emergency.
Leave exercise instructions – when it takes place, the general routine, if it's typically a walk, including the route, or play in the park, the duration of the activity, as well as where the leash and pooper-scoop are located.
Finally, leave information on behaviour idiosyncrasies – describe them in detail, what triggers them and what to do in order to diffuse the situation. The more information you provide your dog's caregiver, the better everyone's break will be.
Boarding Facilities
It's not always easy finding someone to stay in your house for an extended period of time, so another option is to take your dog to a boarding facility.
There are numerous types of boarding facilities that include kennels where dogs typically stay in a room with outdoor access, not a lot of human interaction and minimal contact with other dogs.
Another type of facility is a 24-hour doggie daycare. These places run a doggie daycare during the day, which provides lots of canine interaction activity. When it comes to after hours, the slumber party begins. Traditionally an employee stays with the dogs all night and depending on the facility, the dogs will either be crated, sleep in bedrooms or all together in the daycare playroom.
This situation is best suited to active, healthy dogs.
The third choice is boarding in someone else's home. Typically these pet care professionals work from home and will only board a few dogs at a time. Your dog becomes a part of the family he is staying with. Your dog lives, sleeps and eats in the house as if he was their own dog.
No matter which option you choose, make sure you choose wisely. Choose a situation that best suits you and your dog. For example, if your dog has never been crated, then a facility that would crate him all night would be an inappropriate choice.
Ask for references of you chosen location. Check the facility out and how your dog reacts to it. A good facility or person who takes dogs into their homes, will want to meet your dog and evaluate his temperament to see if he meshes well with the situation.
No matter your choice, take your time in making the final decision. Do not undertake this task at the last minute. Depending on the time of year you are travelling, some places book early and you may need to keep searching.
If possible, do a test run over a weekend. This will let you know if the situation is appropriate for everyone involved.
You might also like...
Be wary with boarding kennels of any kind and make sure your pet is fully up to date on his shots. Obtain recommendations of places from friends and always visit before committing to anything. Look at the dogs boarding there and see if they appear happy and lively or listless. Check what they feed and if they can accommodate any special diet you dog might have.
callie
- 5-Oct-12 @ 2:31 PM