Worm Prevention and Treatment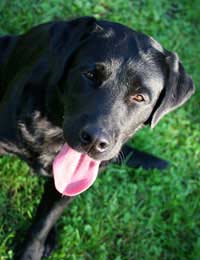 Worms - not something you want the vet telling you your dog has. Worms found in dogs are just as unpleasant to look at as the ones found on the ground, but are not the same.
Worm Types
There are five types of worms commonly found in dogs - roundworms, hookworms, tapeworms, whipworms and heartworms.
Heartworms
Heartworms are carried by mosquitoes and can be deadly to dogs. If an infected mosquito bites a dog, the dog can contract heartworm.
What is a heartworm? It's a long, thin worm that lives in the pet's heart. The only form of detection is through a blood test. A heartworm infestation can block blood vessels, cause breathing problems and can eventually cause heart failure - if left untreated.
Symptoms your dog may have when suffering from heartworms include: lethargy and difficulty breathing. Veterinarian care, which must be sought at the immediate onset of symptoms, is required in order to treat the heartworms.
Roundworms
Roundworms are the most common worms found in dogs. Puppies can actually be born with a roundworm infestation. "In the mother dog, the resting roundworm larvae are activated by hormones during pregnancy and the larvae then cross the placenta to infect the unborn puppies," reports the Columbia Animal Hospital. "Less commonly, the larvae are carried in the mother's milk into the newborn puppies."
If not treated, roundworms will take up residence in the dog's small intestine. The worms coil and thus obstruct the intestine. Occasionally the roundworms will move into the stomach or be passed by the bowels.
A distended stomach/pot-belly is one sign that a puppy is infected with roundworms. Other symptoms include: excessive sleeping, slow growth, thinness and increased lethargy. "If they do not waste away or die in fits and convulsions with frothing at the mouth and clamping of the jaws [they] grow up coarse-jointed, rickety and misshapen," according to author Moses Chia.
Roundworms can also infect people, especially children who will often play in the dirt, then put those dirty hands into their mouths. If the dirt they were playing in was contaminated by an infected dog's stool "the worm larvae [can] migrate through the body, and if they find themselves behind the retina, they [the worms] can cause permanent damage to the child's eyesight," according to Stop Dead Worms. This is why it is vital that all puppies go through a vet-directed de-worming regimen.
Hookworms
Hookworms, like roundworms, live in the dog's small intestine, but these worms grab onto its wall and suck blood.
Dogs of all ages can get hookworms by coming into contact with larvae-contaminated soil. The hookworm larvae then grow into an adult, while living in the small intestine.
Puppies can get hookworm while in the uterus, or the mother can pass it onto her puppies via her milk. A severe bout of hookworm can kill puppies, but adult dogs have a stronger immune system and are able to tolerate them better, resulting in diarrhea, weight loss, lethargy and anaemia.
Tapeworms
Ingested fleas, wildlife infested with tapeworms or fleas, are the most common ways for dogs to contract tapeworm. Observant dog owners will notice portions of the tapeworms - which look like white rice - in their dog's stool or even around their bums. Worms have even been known to crawl into dog's fur.
Whipworms
Whipworms are one of the toughest worms to detect, even with a fecal exam, because the symptoms are minimal. These worms, which live in the cecum - the first section of a dog's intestine, are thread-like in appearance with one end slightly enlarged.
Prevention
Prevention is key to your dog not contracting any of these worms. Precautionary measures include: immediately scooping your dog's poop from the yard; not letting your dog eat dirt, especially in parks and using all preventative medications recommended by your veterinarian.
You might also like...