Should I Separate My Dogs?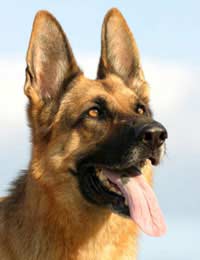 Q.
I have two German Shepherds which are soon to have pups.
I wanted to know if at any point during the pregnancy or after that you need to separate the 2 dogs?
(Miss Lisa Bishop, 12 September 2008)

A.
During the pregnancies it is not necessary to separate your German Shepherds. Their routines should be as normal as possible with exercise and good nutrition being paramount. However, as they get nearer the time of the births they should be given their own space. Exercise should be slower and the dogs not encouraged to be too boisterous.
Box
If the dog's have lived in the home do not banish them to kennels but give them separate rooms for sleeping at night. They should both have a whelping box in which to give birth. These can be a purchased specialist box from a dog supplier or a large cardboard box that can be disposed of afterwards. Line the boxes with newspaper that can be changed if it gets dirty. Collect lots of washable bedding - fleece that looks a bit like sheepskin is ideal as it can be washed at a high temperature and tumble dried quickly. If the bitches are not keen on their new beds feed them in the boxes and also sit with them in the box so it becomes familiar. The box should be large enough for the dogs to stretch out and have puppies around them. The sides should also be high for privacy.
Whelping
It is likely that the first puppy will be born outside of the box. Encourage the bitch into the box by placing the puppy on the bedding. The bitch will follow and soon start to feed her new puppy. you can keep the puppy with her while she gives birth to others unless she is very clumsy and restless. Do not overheat the room or the bitch will have difficulty whelping. Have a separate smaller box to place the puppies in if they need to be removed. do not over handle the puppies at this time. A heat pad for the puppies is ideal.
Contact
At this time the two dogs should not be in contact with other family dogs as they will be very protective of their puppies. It could be four weeks before they are prepared for other dogs to get close to their babies. You know your dogs and their temperament so watch them carefully and be tolerant of them during this emotional time.
You might also like...