How Can We Calm Our Dog?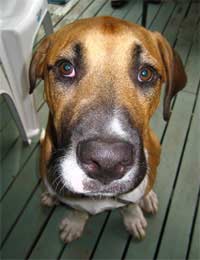 Q.
We recently got a rescue dog which unbeknown to us was pregnant. She settled in well and has now had the puppies. At three days old she unfortunately attacked the puppies and we had to separate the remaining pups from her upon the vet's recomendation.
Our dog is now understandably very stressed and pines constantly for her pups, we have been given some sedatives from the vet but they are not working and we are desperately trying to calm her. We have taken annual leave from work to be with her and have resorted to sleeping next to her as she goes crazy when left even if for a short time in another room. We need to calm her before we have to go back to work. Do you have any suggestions?
(Mr Bradley Cole, 6 November 2008)

A.
Congratulations on your puppies. Just like humans not all bitches take to their offspring. Remember that your girl may well have had a frightening life before she was rescued by you. Follow this with a litter of squealing dependant puppies and it is no surprise that she is not keen to be a mum!
Live Apart
Keep mum away from the babies and try to spend time with her rather than too much time with the puppies. Seeing them can cause her extra upset. Try not to have the smell of the pups on you when you see your bitch either. This will mean that you will have to feed the puppies and wean them as soon as possible and then change your clothes and wash your hands often. You can purchase puppy feeding equipment including a special milk formula from pet stores. Your vet will also be able to supply the right equipment.
Mum
If mum hears the puppies she may well get excited. It may be worth trying to see if she will go back in with them but if she does not want to do not force her. She may harm them and again get very agitated. Instead continue to let her live apart from them and treat her as usual. Keep the pups as far away from her as possible - across the other side of the house if at all possible so she cannot hear them and they cannot hear her.
Infection
If she is going out for her walks remember that she should not then go to the puppies as she could well infect them by bringing in outside germs and infections. Do not let her meet other dogs during this time in case they are carrying an illness that could be transmitted to the little pups and make them ill. If she had settled in well before the pups arrived the chances are it is just the puppies upsetting her. Get her back into her old routine as quickly as possible and keep her busy with toys such as a kong stuffed with food and ball games.
Puppies
The puppies should leave home as soon as possible so that your bitch can get back to her old way of life. If they are a larger breed and are fully weaned consider letting them go as soon as they are seven weeks old. This is slightly young but as long as they go to knowledgeable owners they will be fine.
Spay
Once she is over the birth and the puppies have been put into good homes then make an appointment for her to be spayed. It may be that she will be best in a one dog home if other dogs have this unsettling effect on her. Enjoy your dog and your time with her, it will go so fast.
You might also like...