Should the Breeder Have Given us a Contract?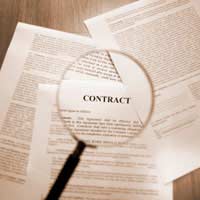 Q.
We have recently taken on a German Shepherd from a breeder. We have actually gone into partnership with the breeder, so they still own the dog, until she (hopefully) has her first litter at 2 years old.
We have never heard of, or done this before, and haven't been shown a contract or anything, should we be concerned?
(Mrs Samantha Lee, 23 January 2009)

A.
You say that you have taken on a German Shepherd bitch from a breeder and have gone into partnership with her without any paperwork having been signed. I assume from your question that the bitch is no longer a puppy but a mature dog.
Partnership
This form of partnership is fairly common in breeding circles and is requested by the breeder so that she can still have a puppy from her own breeding without having to keep another bitch in her home. This will guarantee that she does not lose her breeding line if her own does not breed again. It is usually a puppy that is taken on by the new owner and the Kennel Club documents should show that the dog is registered jointly between you and the breeder. Quite often the breeder will have the registration documents marked so that the dog cannot be bred from until the breeder agrees. This ensures that people do not purchase bitch puppies and then go off and breed without thought or consequence just to make money.
Proving the Bitch
It is usual for the bitch to be shown so that its quality can be assessed before any thought of breeding from her is decided. It should not be assumed that the dog will definitely be bred from as she may end up not conforming to the breed standard and be a bad example of the breed. There is no rule that says that every bitch has to be bred from.
Health
As the bitch is in partnership you should both pay half towards all the health tests that are required to be carried out before breeding from the dog. The hips will need to be x-rayed at the age of twelve months to see if there are any signs of abnormality. The plates are marked with the dog's registration details and sent off to be scored by a panel of experts from the Kennel Club and the British Veterinary Association. When the score comes back to you it will show each hip as a number from zero to 103. Zero is excellent and 103 is bad! Each breed has an average score and this information can be obtained from the Kennel Club. Do not breed from a bitch with a high score and take advice if she has an average score. Your vet or knowledgeable breed members can help you with this. Depending on the breed there could be other tests to carry out on your bitch such as eye testing, elbow testing and blood disorders.
Contract
Yes, you must have a contract with the breeder. You need to know if you have a choice of stud dog, where the bitch will live during her pregnancy and where she will whelp. Will she be under contract for just the one litter or more? Plus, will you be allowed to have a puppy from the litter and will the bitch be signed over to you after the agreement has been met?
Feelings
How are you going to feel while the bitch is living with the breeder? Will you miss her and will she miss you? Going into partnership with someone on breeding terms is not to be undertaken lightly and in truth should be avoided.
You might also like...