At What Age Can a Puppy Be Taken From its Mother?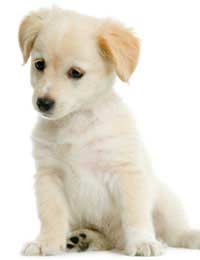 Q.How old can a puppy be before you take it away from its mother?
(Mr Ryan ward, 23 September 2008)

A.
Puppies should never be taken from their mother until they are at least eight weeks old. some breeds can be more advanced than others and the difference of a week can mean the difference between being self sufficient and being able to eat, drink and socialise or still being close to the mother and wary of adults and other dogs.
Visit
When you visit the breeder to view the litter it should not be before they are four weeks old as the mother is not prepared to share her babies before this time and there is also the possibility that visitors could bring infection into the puppy room. When you see the puppies try to observe their movements, do they play quite happily away from the bitch or are they clinging to her and still suckling? A puppy should be weaned by the age of four weeks and be encouraged not to rely on the bitch for food. Any older and the bitch will have sores and the puppies will drain her energy.
Dog and bitch
You are always hearing the words, 'make sure to see the puppy with it's mother and father.' However, this is not always possible. Yes, the bitch should be present but it is more than likely that the stud dogs lives many miles away. In fact it is better if it does as it means the breeder has not resorted to using any local dog for convenience and to make money. The breeder will give you details of the stud dog and you can contact the owner.
Research
Do your research before viewing the puppies. Ask at your breed club about the breeder, make sure she is known as a good dog person and not someone who bought a dog just to breed from it. Ask at the Kennel Club and breed club what health checks should be undertaken for the breed you are interested in and request copies from the breeder of the dog and bitches certificates to prove they have been tested - and passed clear where necessary. Do not be fobbed off with excuses. You should also make sure the puppies are registered with the Kennel Club, this does not take long and the papers should be ready to hand to you when you collect the puppy. If the paperwork is not there check with the Kennel Club that they have been registered and with hold payment until you received them from the breeder. Try to do your research before you visit the puppies as even a person with a hardened heart cannot walk away from a cute puppy - this is how puppy farmers manage to sell sickly puppies - by tugging on your heart strings!
You might also like...