Dog Training: Staying in Control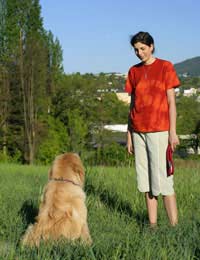 Are you at the beck and call of your dog? Does he howl when you leave the house? Do you feed him when he demands it? Does he annoy you asking for attention all the time? Can he become aggressive if he doesn't get his own way? Then my friend your dog has trained you well and it's time to get your own back!
Training
Ideally puppies should attend a training class as soon as they are able to venture into the outside world. This is when they have had all their puppy injections.
Clubs
A list of registered clubs can be obtained from the Kennel Club. To begin with, a puppy socialisation class at your vets can help puppy get used to other dogs and people but ideally you should be attending an obedience class. If you intend to exhibit your dog at dog shows then a ringcraft class is a necessity. All these clubs instruct a certain level of obedience and socialisation in a dog.
Older dogs
A dog that has arrived in your home at an older age can bring with him his own baggage – his own problems brought about by bad training, or lack of training, from his previous owner. This can be overcome with training, a firm hand and lots of love.
Barking
Does your dog bark incessantly when you leave him alone, either in a room away from you or when you leave the house? The problem may be simply that he misses you. Dogs can become over devoted to their owner and need confirmation that they have not been left forever. Settle the dog on his bed, or in a large cage with his own blanket and a treat. You can purchase toys that can be stuffed with food treats that will entertain the dog while he is alone and take away the fact that his owner is absent.
Leave on a radio and close the curtains so he cannot see people walking past the house.
When you arrive home do not automatically make a fuss of the dog but leave him to accept you are back, after a while release him from the cage and award him with a treat and praise if he has not barked. Never leave a dog in a cage for hours at a time. If you work long hours ideally the dog should not be left alone but should have a dog minder.
Products
There are products that can help to stop a dog barking they include such items as Citronella sprays fitted to collars that emit a small spray when the dog barks. A new product is the DAP diffuser. This small gadget emits a dog appeasing pheromone that calms the dog and makes him more accepting of his surroundings and sudden noises.
Routine
Give your dog a routine to follow; set feeding times, set grooming times, set exercise times – even set attention times. Some dogs do need a rigid routine. This way you will be able to sit and watch television or have a conversation with friends without the dog demanding your attention.
Intelligent dogs
Your dog could be unruly because he is bored. Take him through some obedience routines each day to make him think and work. These can be lessons you've learned at training class or simply throwing a ball and making the dog retrieve it or a few down stays. Exercise will tire out the dog and is good for the handler as well!
You might also like...