Taking Your Dog on Holiday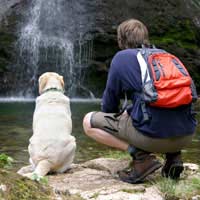 When a dog joins the family it is normal for him to be part of every activity that his new family undertakes. So what is more natural than a family holiday that includes the dog?
Booking Ahead
When you intend to take a holiday with your dog it is essential that you notify the hotel, guest house, and caravan or cottage rental company that there will be a dog with you. Some holiday venues will not allow a dog in their property although many do now cater for the family pet. It is likely that there will be a small charge for the animal although you will have to provide food yourself.
Travelling Overseas
When planning to take a dog overseas you will need to have him registered with a Pet Passport which is part of the Pet Travel Scheme. This means that he can travel back into the country from most EU countries and from other countries that are part of the scheme. The Department for the Environment, Food and Rural Affairs (DEFRA) keep up to date information on their website about participating countries and any changes in the system.
This will take over six months for the initial application as the dog will need to have rabies shots and follow up blood tests to ensure that the injections have worked. The dog will also need to be micro chipped and have all his other vaccinations and worm treatments up to date. Once the blood checks have been done you will be able to apply for the passport, your vet will have all relevant documents and will be able to carry out all the procedures. Before returning to the UK your dog will be scanned to check he is micro chipped and you will have to prove that he has had tapeworm and tick medication administered by a vet between 24 and forty eight hours before returning home.
Car Travel
When undertaking a car journey with a dog it is advisable to make him feel safe and comfortable for the duration of the journey. If possible a cage fitted into the back of the car will keep him safe if there is an accident. If there is not room for a cage a harness can be purchased that will clip into a seat belt connection on the back seat. A blanket over the seat will protect it from dog hairs and accidents. If you leave the car during the journey take the dog with you. A car can become very hot very quickly and every summer there are news bulletins of family pets being killed in hot cars and the owners prosecuted.
Food and Drink
Where possible ensure that your dog eats the same food that he enjoys at home. A change of diet can cause an upset stomach and spoil everyone's holiday. You may have to take food with you when travelling. If this is the case then divide the food into meal size portions and pack into a holdall along with the dog's blanket, towel and grooming equipment. Remember to pack plastic bags to pick up after your dog and a sheet or throw to put over furnishings in your room to protect them from pet hairs.
You might also like...