Communicating With Your Dog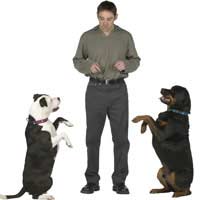 How we speak to our dogs is just as important as what we tell them, especially when we are training them.
There are three main ways to verbally communicate with your dog – command, correction and praise – according to the Golden Retriever Club of Victoria (GRCV). "When commanding the dog to perform an action [sit, down, stay, heel], use a tone that carries authority but not threat, or request," reports the GRCV. "You are telling the dog which action you would like performed and nothing else."
Your stance should also be authoritative – stand up straight. And always be above your dog – stand, do not sit at his level when issuing commands as he will not respect them. When you are at their level, dogs view you as a peer, not the alpha.
Your dog isn't a machine, and will not always readily perform the commands. Do not allow frustration to enter your voice when giving a command. "If you feel yourself becoming frustrated, take a break," according to the Dog Breed Info Center. "Your dog can sense this and will start to associate training with your unhappiness."
Correction
When your dog fails to perform the command you request, and your dog knows how to do it, then you must up the ante and use a more stern voice that lets the dog know you are displeased with the dog's inaction. Sternly, however, does not mean louder. Yelling will not get you the desired result.
You can also let your dog know you are displeased with his refusal to complete the command by giving him a verbal reprimand such as 'no', 'off' or 'leave it', whichever is most appropriate to the situation.
Praise
When you give a command and your dog performs it, you must then praise him with your most happy voice. "The dog must know that he's performed correctly and that this makes you very happy," according to the GRCV. Even if you have to correct the dog before he performs the command correctly, you still must praise him.
Praise is the most important part of training. "Quite often verbal words of praise are the most effective reinforcement and are even more effective when accompanied by appropriate body language on the part of the trainer," according to dog trainer Michael Russell. "Words of praise should be overwhelmingly happy in their sound and the trainer can also lavishly pat, hug and shower attention and affection on the dog."
Come Command
Using a happy voice is especially important when giving the 'come' command.
"We've all seen owners yell and yell for a dog to come as the dog blissfully ignores the command, madly chasing squirrels instead," reports the Illinois College of Veterinary Medicine. "When finally the dog comes, the frustrated owner may pop the dog on the nose and yell some more…Would you go to somebody who might hit and yell at you?"
Repetition
When you give a dog a command, say it only once. When you repeat 'sit', for example, three or four times then, out of frustration, push the dog's bum into the sit position; you have just trained your dog that he doesn't need to sit until you've repeated the command numerous times.
Teaching your dog that you are the boss – verbally – will go a long way towards creating a great relationship with your dog.
You might also like...