Training Commands for Every Day Life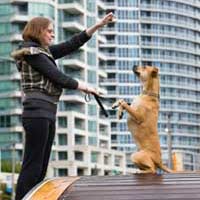 Everyone likes a well-trained and well-behaved dog - not only does this make them welcome members of society and a pleasure to have around the home but training also helps to stimulate your dog mentally and build a strong bond between you – and in some cases, even save your dog's life!
So here are some commands that your dog should know to help make things easy and enjoyable in everyday life:
COME!
Having a dog that will come when called is a Holy Grail for many owners – and sadly not one that many dogs can perform reliably. It is one of the most important commands you can teach your dog: not only does this make things easier for you but it can also be crucial in ensuring your dog's safety and those around him. Perhaps, for instance, your dog is running towards another potentially aggressive dog or chasing children at the park in a potentially threatening fashion, a reliable "Come" can avoid a lot of aggravation, embarrassment and even serious injury, as your dog stops in his tracks and comes back to you.
Your dog also benefits too because being able to trust him to come back means that he is more likely to be given the freedom to run off-lead and enjoy himself.
Remember, the key to successful Recall training is to never punish your dog for returning to you, no matter how justifiably angry you feel and how long he takes to go about it! Your dog should always be rewarded for coming back. The other key to success is to practise frequently with increasing distractions. The reason most people fail in Recall training is because they raise the stakes too high too early – i.e.. They take their dog to the park or some other exciting place and expect their dog to ignore all the temptations and come when called – which usually doesn't happen! The dog therefore learns that he can ignore them and get away with it – they have set themselves up to fail. Instead, by taking baby steps and only gradually exposing your dog to more challenging environments, you will be able to train a much more reliable Recall.
DROP IT!
This command teaches your dog to drop whatever he is holding in his mouth immediately, whether it is a toy, food or some other valuable or potentially dangerous item. It can be a hard one to teach – particularly with food – but it is well-worth persisting. Again, not only does it save you from having to chase your dog around to reclaim valuable possessions but it can even save his life if he picks up something toxic in his mouth. Your dog should always be rewarded by lavish praise and treats whenever he drops things on command.
WAIT!
Another very useful, everyday command – this teaches your dog to pause in whatever he is doing and wait for the next instruction from you. This is most commonly taught when you are out on walks and approach the curbside, so that your dog does not rush across the road and possibly into the path of oncoming traffic. Another handy situation to teach this command is during mealtimes – when the dog is instructed to "Wait" as his food bowl is put down and is not allowed to start eating until given permission. This command should always be taught with a consistent 'release word' which clearly signals to the dog that his period of waiting is over.
LEAVE IT!
This command is similar to "Drop It!" except that it is given before your dog has had the chance to pick anything up in his mouth or even approach it. When your dog hears this command, he should turn away and ignore the object he is showing interest in – whether it is a piece of food, a cat, another dog or some other 'forbidden' human item (such as your best shoes!) – and be rewarded accordingly. This is a very useful command to start teaching from a young puppy, to curb any stealing and destructive behaviours. Again, you will get the best results by starting with less attractive items and very gradually increasing the challenge, so that eventually you will have a dog that will willingly leave things alone when instructed.
STAY!
Stay is a command that many people abhor as being boring to train and yet is one of the most useful and important training commands you can teach your dog. In every day situations, there are great benefits in being able to keep your dog reliably in one place – such as when you take him to cafes or other places and need him to remain quiet and not to wander, without the need of crates or other cumbersome forms of containment. And in situations of emergency, it can be a matter of life and death to be able to hold your dog in one location, even if you don't have access to physical restraints. Just like Recalls, reliable Stays are achieved by starting easy and testing your dog with increasing challenges and distractions, such as busier environments, greater distances from you and longer times remaining in the Stay. It is also worthwhile teaching your dog to Stay in both the Down & the Sit positions.
You might also like...