Using the Dog's Instinct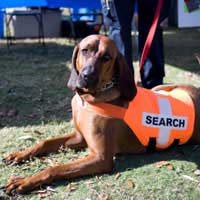 A dog's instinct is deeply embedded and goes back to when the dog originated from the wolf. Over time some breeds have developed in different ways and it is these instincts that man has chosen to use in many different ways.
Herding
Think of the sheepdogs herding flocks of sheep and cattle they are still used today for the same tasks that our ancestors used them centuries ago. They sleep out in all weathers and protect against attack and other animals that could maim or kill. These dogs have also developed coats that will protect them from the harsh weather on hillsides and open country.
Rescue
Newfoundland dogs with their large strong bodies and webbed feet can retrieve someone from the water and bring them to shore. They are even known to tow boats to safety. St. Bernards will travel miles through snow and mountainside and then locate a person stranded miles from civilisation.
Search
We have all observed the wonderful dogs that sniffed out people buried deep within the rubble after the collapse of buildings during earthquakes and acts of terrorism. These dogs with their acute sense of smell can reach parts of buildings that human rescue workers cannot reach.
Drugs and Explosives
Dogs are employed daily in our airports and with the police force to sniff out drugs and explosive material – they have even been used to find illegal immigrants hidden in lorries at our ports.
Gundogs
Dogs are still trained to the gun and their natural instinct to either search out or retrieve the game is used to great effect in the field.
Human Help
Guide dogs for the blind hearing dogs, dogs for the disabled, these organisations show just what we owe to the world of dogs. They patiently guide the blind, act as ears for the deaf and play the part of hands for the disabled. These dogs show great devotion to their owners and work patiently for hours on end to give those who may not have coped on their own a better quality of life.
Pat Dogs
Dogs and their owners that belong to the Pets As Therapy (PAT) organisation go into hospitals, homes and hospices to visit the sick and infirm. There natural affinity with people can reassure the worried patients and it has been proved that this can lower the blood pressure of patients and improve the healing process. Dogs also bring a link to home when the elderly are in rest homes and are missing pets they may have been forced to give up. There is also a scheme whereby PAT dogs are being introduced to children in schools who are scared of dogs or have been attacked in the past.
Illness
It is becoming more apparent that dogs can detect illness before the medical profession. We are regularly hearing of dogs detecting cancer and it has been proved that they can alert their owners before they have epileptic fits. Who knows what our dogs will be able to detect in the years ahead?
Above all dogs have an instinct to protect and supply unconditional love to their family and it is our duty to ensure that this love is returned with the basic necessities of a dog's life such as food, water, a clean bed and attention.
You might also like...