Skills Required by Movie Dogs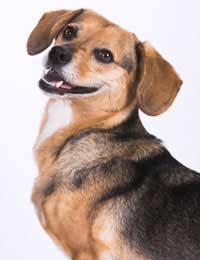 So you think your dog has movie star good looks and talent to boot. However do you have the skills necessary to help groom him into a star?
In order for a dog to be chosen to appear in movies, TV commercials or print ads, he must not only be cute, but well trained.
The Basics
There are numerous companies around the world offering workshops designed to teach you and your dog some of the skills required by animal actors. However, in reality, you don't need expensive courses and Hollywood-type dog trainers to teach your pooch some of the tricks of the trade. A good obedience instructor and perhaps even an agility instructor will do. If the trainers have experience with dogs who have appeared in films, that's a bonus.
The Tricks
Most of what dogs do in the movies are simple tricks any dog can learn. Some of the most common tricks performed by movie dogs include: playing dead, bow, crawl, back up, touch the target, turn out the light, speak on command, wave, hide your eyes, find it and sneeze.
However, the basic skills are also required, and they consist of sit, down, stay, watch me and come.
Dogs must also know how to take direction from a distance.
While most dogs can competently perform all trained tricks and obedience commands in the comfort of their own home, animal actors must be able to perform these skills on a film set where they are surrounded by a lot of strangers, large pieces of equipment and lots of distractions. And the dogs are generally under the direction of a film-specific dog trainer, not you.
One way to measure your dog's ability to work well on a movie set, without actually going to a movie production, is the Canine Good Citizenship test, which according to Hollywood Paws, provides the foundation for being a suitable animal actor.
Agility training is also a good skill for your dog to have. "Dogs that can jump obstacles, can be taught to jump in and out of moving cars, leap over people or other dogs, or jump in and out of windows," according to Pat Saito, who's dog Tasha has appeared in films.
Breaking In
Once your dog is trained, it is time to put together his portfolio – complete with current photos, a list of skills and any professional work he has done.
Professional work does not have to only be Hollywood films. It can also consist of newspaper appearances, community events, local photography work etc.
Getting an agent to shop around your dog to directors is tough as there are no real animal agents. What does exist, however, are training schools that will teach you and your dog how to break into the industry.
Don't expect to land in Hollywood immediately. It will take a lot of work on both your parts to get there, as well as a lot of luck.
Pounds and Pence
There are two types of dog owners in the entertainment industry. The first type do it because they think their dog will have a good time. The second kind of dog owner gets into the business for the money. Unfortunately, for those dog owners the paycheques are very rarely enough for them to quit their job.
According to Pampered Puppy, working dogs can make anywhere from US$50 to US$350 a day, depending on the type and length of the production.
Animal Protection
The Animal Humane Film and Television Unit (AHFTU) is the only agency designed specifically to protect animal actors. Films with a disclaimer stating that no animals have been harmed during the production of this film are approved by the AHFTU.
The agency's Guidelines for the Safe Use of Animals in Film Media details all safety regulations that production companies must follow. "Approval [by the AHFTU] is given when an individual or entity successfully completes the American Humane training program and receives full accreditation," according to the AHFTU.
Getting your dog into the movies can be a lot of fun for you and your companion. However, ensure he is having fun and is protected while on the set.
You might also like...