Furniture Chewing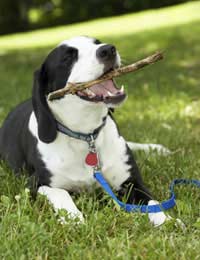 Chewing is natural and healthy for puppies and dogs but it is up to us to teach them what they can and cannot chew.
Why Dogs Chew
Dogs chew things because it's fun - just watch a dog de-stuff a pillow and you will see how much fun he's having. Puppies also chew because they are teething (around 14 to 28 weeks of age). Chewing helps soothe his gums and allow for his baby teeth to fall out so the adult teeth can grow.
Boredom and stress are also chewing triggers. Chewing releases endorphins, which help to calm them down. "This does not mean your dog is necessarily anxious, just that they know chewing calms them down and makes them feel better," reports Canine Concepts.
When it comes to destructive chewing by anxious dogs, according to Perfect Paws, it is because the dog is anxiously awaiting their owner's return and in an effort to release the anxious energy, the dog chews.
While a puppy will chew anything and everything he comes across because he is exploring this brand new world, an adult dog will often chew inappropriate items – shoes, socks, walls, furniture, newspapers etc. – because he wasn't properly trained as a puppy to chew only his toys.
In an effort to save a few pounds, many new puppy owners will often give old shoes, socks and towels to a puppy to play with. However, this only teaches the dog that these items, whether they are old or brand spanking new, are ok for him to chew.
Dogs may also chew because they have too much energy. Mental and physical exercise is key to curbing this type of destructive chewing. A tired dog is a sleepy dog, not a chewing dog.
Solutions
You never want to stop a dog from chewing as it not only calms your dog down, but it also helps to remove plaque and tartar from his teeth and gums. Instead, you want to teach your puppy to chew only his toys.
The first step is prevention. Put out of reach anything of value. That includes putting shoes in the closet and closing the door, as well as closing the doors to bedrooms, bathrooms and basements, all of which have a ton of stuff dogs would love to get their teeth around.
You may also want to crate your dog when you are not home as this guarantees the dog will not destroy any part of the house. You can also contain him a relatively empty room in your house – like the utility room. In either situation, leave your dog lots of his toys to play with.
The second step is to re-direct your dog from your things to his toys. Litter his crate/play area with his toys and encourage him to play with them. When he does, praise him.
Dogs often grab items that smell like us. So in order to get him interested in his toys, rub your hands all over them.
Just as kids get bored with their toys, so do dogs. Most dogs will have more toys than they know what to do with, so take some away. Put out only a handful of them at a time – some soft, some hard chew bones and some interactive – and rotate them every week or so. This will help to keep him interested in all his toys.
The third thing to do is correct him. If you happen to catch your dog chewing on your shoe, do not yell or scold him – you never want him to think chewing as a whole is bad; you just don't want him to chew your things. Remove the inappropriate item from your dog's mouth – by either showing him his own toy or by teaching him the drop command – and replace it with one of his own toys.
Another way to correct him is to booby trap the item with either a shake can (an empty drinks can filled with pennies) – the noise with frighten the dog away from the item, or spray the item with a deterrent like bitter apple. The bitter apple-type sprays taste terrible, therefore, the dog will not want to chew the item.
These deterrent methods are not chewing cures. You may have to booby trap or spray the various items for quite a while also teaching your dog what is and is not appropriate for him to chew.
You might also like...