Fear Biting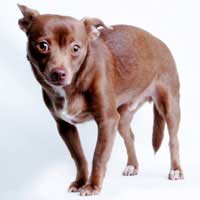 Dogs can't call mum into the room when the kids are tugging at his ears, nor can he stand up and say stop it. Dogs bite because they have no other way of telling us they are upset or annoyed at what we're doing to them.
However, there are some dogs who bite because they are frightened. These are known as defensive-aggressive dogs or fear biters. "When faced with new situations with people or dogs, they avoid direct eye contact and assume a submissive stance," reports Ron Hines, DVM.
What does a submissive stance look like? The dog's ears will lie flat against his head and his tail will be tucked between his legs. When meeting new people or dogs, fear biters will also roll onto their backs - not for a belly rub, but as an expression of extreme worry.
Fear biters "are very fearful about being touched and shy away from being petted, stroked or brushed," adds Hines. "At any instant they may snap and bite out of fear… They will [also] often urinate and defecate in fear."
According to the Capital Regional District (CRD) fear biters make up as much as 90 per cent of all dogs who have a tendency to bite. However, knowing how to act around dogs will go a long way towards bite avoidance. "Dogs do not smell fear, but do read body language," reports the CRD.
The CRD recommends adopting the following stance when you encounter a strange dog or even sense something is amiss with a dog you know:
don't walk or run away
face the dog with your eyes and body
if the dog tries to lunge at you or circle you, keep facing the dog by shuffling your feet
if he tries to bite, in your most stern voice, tell him no
if you are carrying something, keep it between you and the dog
even if the owner arrives, keep your eyes on the dog
if the dog does not go away and keeps looking at you and circling, walk away, slowly and backwards, until you are obviously out of his territory
"It is most important that you do not turn your back, run or scream. All of these submissive acts will encourage the dog to continue its attack," reports the CRD.
The Solution
Just as there are shy people, there are shy dogs. These shy dogs become fear biters because their self-confidence was never built up during their formative puppy period.
Building a dog's confidence takes a lot of time and patience. Enlisting the help of a trainer familiar with fear biters is also essential, as she will provide you with the tools to help you build up your dog's self-confidence. Attempting to do this without professional guidance can backfire on you and actually get you bitten.
If your dog is a fear biter, it is important to keep him away from children "as children will not have the needed awareness and self control to avoid triggering a bite," according to Deborah Wood, author of Help for Your Shy Dog.
You might also like...