How to Stop Your Dog Digging Up the Garden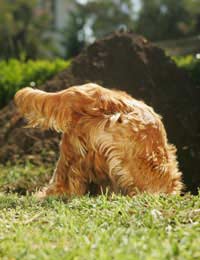 Dogs digging up the garden are one of the biggest headaches for many pet owners. However, there are ways to deal with this normal canine behaviour, either by preventing or redirecting your dog's digging to a more appropriate area or by giving your dog an alternative activity to occupy his time and energy.
Digging Dogs
First, it's important to understand that digging is a completely normal canine behaviour – it is driven by instinct and it would be unfair to completely deny your dog this natural urge. Furthermore, certain breeds or breed types have a strong predisposition to dig – most terriers, for example, are hard-wired for digging. Dogs that require excessive exercise (e.g. gundogs) or more mental stimulation (e.g."smart" dogs such as Border Collies) are very prone to boredom and therefore quick to engage in destructive behaviour like digging, just to have something to occupy their constantly active minds. Therefore, if you have one of these breed types, be prepared that you are more likely to have a digging problem, especially if you leave your dog alone for long periods of time.
Regardless of breed, dogs also have a very strong instinct to bury and dig up bones and other food items – this stems from their evolution from wolves when it was normal to bury food for later consumption. So although today's pampered pets rarely have to save leftovers for times of starvation later, the urge to bury and hide is still strong in many dogs.
Solution: A Place of His Own
In many cases, the best way of dealing with a determined digger is to give him an area of his own where he can dig to his heart's content. If your dog is small, this can be a sandbox – if your dog is larger, this can be a section of your garden set aside for his entertainment. Clearly mark the borders of this area and then "seed" the area with some dog treats shallowly buried – this will encourage your dog to focus on that area in his digging efforts.
Whenever you catch your dog digging in other parts of the garden, interrupt him instantly and quickly redirect him to his "digging area", giving him lots of praise and encouragement if he begins digging there. If you repeat this consistently and always supervise your dog (at least initially) so that he does not get a chance to dig in other parts of the garden, he will quickly learn that digging in his designated area is more rewarding (especially if you keep occasionally burying treats there for him to find).
Remember, though, that it is no use correcting or punish the dog AFTER he has finished digging in the forbidden areas, no matter how angry you feel. Dogs cannot make an association unless they are caught in the act and you will only confuse and frustrate your dog – and not make him behave any better. This is why you should make an effort never to leave your dog in the garden unsupervised at the beginning of the programme, so that you are always on hand to interrupt and redirect any inappropriate digging.
Cool It Off
Another reason dogs often dig – especially in the warmer months – is to find the cooler, damp earth underneath to lie on. This is again instinctive behaviour. If your dog is digging in hot weather to find cooler, moist earth to lie on, first make sure he has easy access to lots of shade and drinking water. You may want to consider providing a shallow children's paddling pool filled with just a few inches of water for your dog to lie in – many dogs enjoy this immensely. Be careful, though, if you have a squashed-nose breed such as a Bulldog as such dogs can easily drown in deep water.
Tired Dogs Don't Dig
If you have to leave your dog alone for long periods of time – and especially if he is of an energetic breed – it is almost guaranteed that your dog will be bored and turning to destructive behaviours such as digging to occupy his time.
Therefore if you have to leave your dog alone, make sure you have catered to his exercise needs. Ideally, take him for a vigorous walk before you leave him in the morning, so that he is tired and ready to sleep some of the day away. You may also like to consider asking a friendly neighbour to look in on your dog and spend some time with him during the day – or pay for this service from a dog-sitter.
In addition, make sure you leave your dog with plenty of interactive toys and chews to amuse himself. Interactive treats toys are ideal as they can keep a dog occupied for long periods, trying to extract the treats hidden inside. Similar, chews can be very satisfying and soothing to many home-alone dogs.
You might also like...