Calming Signals: How Dogs Talk to Each Other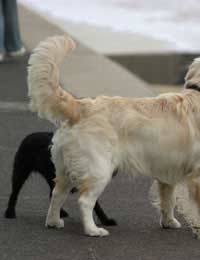 Many people seem to believe that dogs talk to each other like the characters in a Disney cartoon – through howls and barks and possibly even canine words that we can't hear! In actual fact, this could not be further from the truth. Yes, dogs do sometimes communicate using audio signals, such as barking, whining, growling and howling – but more often than not, they are communicating through a unique set of body language called "calming signals".
The Secret Language of Dogs
Because dogs are social animals descended from wolves, they have evolved to live in large groups which share resources such as food, shelter and mates. Therefore, for the continued survival of the pack, it is essential to avoid conflict between members as much as possible. Dogs achieve this through a special body language called "calming signals" which enables them to communicate to each other and assure other pack members of their peaceful intentions, thus resolving situations with minimal violence or aggression.
Although our pet dogs no longer live in wild packs, they still instinctively know how to use these calming signals to communicate to each other – especially when they encounter a strange dog or when they are placed in a stressful or potentially tense situation. Not only do the calming signals they display calm and placate the other dog, they also serve to help the dog calm himself in times of stress and anxiety.
More Than Just a Wagging Tail…
While some people do understand that dogs use their bodies to communicate, they often have an over-simplified view of things and therefore interpret the signals incorrectly. The most common example of this is a wagging tail, which most people take to be a universal sign of happiness and friendliness. In fact, a wagging tail can mean many different things, depending on the speed of the wag and also the height of the tail. A low, slow, relaxed wag is a happy, contented dog; a fast wag is an excited dog - but this could be excited pleasure in anticipation of a game with a toy, excited welcome when seeing its owners come home or even excited predatory anticipation as it prepares to chase and hunt down another animal. Finally, a high stiff wag can mean a dominant dog that is aroused and preparing to attack – by no means a sign of friendliness!
Another example is a dog who rolls onto his back – something most people take as a friendly invitation for a belly rub. In actual fact, a fearful dog may also roll onto its back as a submissive gesture, to try and counteract your threatening approach. This dog is NOT saying, "Please rub my belly!" – this dog is saying "I'm not going to hurt you so please don't come any closer to me – I'm scared!". In this case, if you continue to approach and lean down to rub the dog's belly, you may receive a defensive bite for your efforts. This is why it is important to read the signal in the context of the situation. If you know the dog well and it rolls over, by all means, give it a belly rub – but if it is a strange dog and it looks timid and uncertain, err on the side of caution. Wait until it approaches you voluntarily before trying to interact with it.
The way so many people over-simplify and misinterpret dog body language is one of the reasons people often get bitten by a dog, as they are misreading and ignoring the warning signals a dog is sending them.
Common Calming Signals
Given how frequently dogs use these calming signals to communicate with each other – and with us – it is useful (and fascinating) to learn some of the more common calming signals, so you have an idea of what to watch out for.
Yawning – dogs will often yawn when they are in a stressful situation and not because they are tired, sleepy or bored as many people seem to believe! For example, if there is tension in the atmosphere – such as family members arguing with each other or when you are reprimanding your dog – they will often yawn to try and calm themselves and their family down. Similarly, they will yawn when they feel overwhelmed by excitement – such as waiting by the front door to go for a walk – or when they feel anxious and stressed by a situation, such as when embraced by a stranger.
Turning the head away – another sign of the dog being uncomfortable, dogs will often deliberately look away or turn to face away altogether, particularly when approached by something threatening or unpleasant. Older dogs use this technique very effectively to deflect younger, boisterous puppies and peaceful dogs will also use this signal to placate another aggressive dog.
Curving – this is very common when strange dogs first meet: they rarely approach each other in a straight line, head on, but instead curve in a wide arc around each other. This natural way of meeting and greeting allows the dogs to determine how much personal space they need to remain feeling comfortable. It is also the reason dogs are often aggressive to each other when they meet on leash as they are restrained and prevented from practising this natural curving behaviour.
Sniffing the ground – often mistaken for interest in a scent, dogs will go through the ritual of sniffing the ground when they feel uncomfortable in a situation (such as a threatening person approaching) or when they are trying to reassure another dog that is anxious about their approach.
While humans obviously cannot mimic exactly many of these calming signals, knowing what they look like and what messages they communicate can be very useful in both interacting with dogs ourselves and also in reading the situation when 2 dogs are interacting with each other.
You might also like...