Why do Dogs Bark?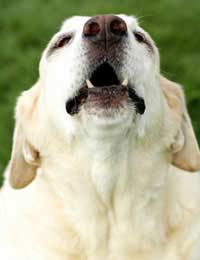 Dogs bark. It's how they communicate with one another and us. What is not natural however, is excessive barking, which quickly becomes your problem, especially when the neighbours complain.
Why Dogs Bark
If you have a barker, the only way to put a stop to it – excessive or not – is to first understand why your dog barks.
There are five main reasons why a dog barks – alert/warning, attention seeking, boredom, excitement, loneliness/anxiousness and because they are startled.
Strangers
Some owners encourage their dogs to bark when strangers, viewed as intruders to dogs, approach. Strangers include the postman, kids on their way to/from school, or dogs walking by.
The alert barkers' posture is one where his tail is erect and his ears are up and forward. "Warning barks tend to become more rapid as the intruder approaches," according to Holly Nash, DVM, MS of Pet Education. "Aggressive barks are low in pitch and may be combined with growls."
Allowing your dog to bark two to three times when a stranger approaches is acceptable; however, allowing your dog to bark until the stranger is gone is not acceptable.
Teach your dog to stop barking after a couple of barks by using the 'quiet', 'no', or 'enough' command. Your command should interrupt the barking long enough for you to praise him for his silence. When he is quiet, praise and reward him.
Along with the 'quiet' command, you can also teach your dog to go to his bed and do a sit or stay. This will definitely be appreciated by anyone who comes to your door, including friends, who are then bombarded by a barking, jumping dog.
If your dog barks excessively at passers-by when you're not home, cut off his view to the outside world. "As far as the dog is concerned, each time it happens [a stranger walks by] his barking scares this intruder away, therefore, they bark even more emphatically the next time," according to Dog Patch.
Attention
Dogs, but mostly puppies, will bark at you in order to get your attention. Dogs are pack animals and need sufficient time to be with their pack – you. Be sure to spend quality time with your pooch – walking, playing fetch, practising obedience skills, so "he doesn't have to resort to misbehaving to get your attention," according to the Dumb Friends League.
If you spend quality time with your dog, but he wants more and barks incessantly at you for it, the best thing for you to do is ignore him. Yelling 'no' or 'quiet' at him won't work. As far as the dog is concerned, you're barking along with him or at the very least, giving him the attention he was seeking, therefore, reinforcing the behaviour that barking will get him what he wants.
Boredom
Bored barkers need an outlet for their energy. Be sure to leave lots of toys out for your dog – especially ones that provide a challenge and reward or a treat-dispensing ball.
Depending on your dog's energy level and amount of barking he does while you are gone during the day, you may want to consider sending him to doggie daycare a couple of times a week to help him burn off some of his energy.
Dogs suffering from separation anxiety will often start barking the minute you walk out the door and continue all day long until you come home. "The barking can become self-reinforcing as he becomes more stimulated and anxious," according to Nash. "Anxious barks tend to get higher in pitch as the dog becomes more upset. This type of barking can be especially annoying to your neighbours."
Professional help from your vet and a behaviourist is recommended in helping your dog cope with his separation anxiety.
Sudden movements or noises, such as thunderstorms, fireworks or the slamming of car doors can startle any dog and cause him to bark.
In order to curb this behaviour, he needs to become desensitised to those sounds.
Once you understand why your dog barks, getting it under control, with time and patience, can be done.
You might also like...