Teach Your Dog Basic Obedience Skills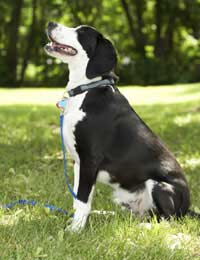 Teaching your dog basic obedience skills – sit down, stay, heel and come, are imperative for a happy co-existence between you and your companion.
It would be great if dogs came to us completely trained, but they don't. It is up to us as owners, to teach them exactly what we want from them. Therefore, training needs to begin the minute you and your puppy arrive home together for the first time. If you don't, he will immediately make up his own rules, which are probably not the same ones you want to instil. And it is much harder to re-train a dog that has already learned bad behaviours.
Keep the sessions short and simple – don't try too many new things in each training session. Do the training, initially, in a quiet spot in the house. Once the dog knows the command, you can then move to other locations and add more distractions. You want your dog to be able to perform the given command no matter where you are, but doing too much too soon, will only confuse him and frustrate you.
When giving a command, do not repeat it, otherwise your dog will think he needs to hear 'sit' four times before actually doing it. After giving the command, wait five to 10 seconds to see if your puppy will do it. If he does nothing, then you can then repeat the command.
Release Word
When in training, your dog needs to know when he can break from the position and go get his reward. Pick a word your dog won't hear often in training such as 'ok' or 'release'. You can even pick a completely unrelated word like 'orange.' Whenever you say the word, it will trigger your puppy to break the command and come to you for praise and rewards. Make sure you always use the same word and that you say it in a very happy tone.
Sit
Teaching your puppy to sit is a great first skill, because he already does it without prompting. One way to train 'sit' is to praise him by saying 'good sit' every time you see him do it on his own.
The more formal method is to stand in front of your puppy and hold a small treat to his nose. Say 'sit'. He probably won't do anything. That's ok. With the treat still in your hand, raise your hand slightly above his nose and back over his head – as his eyes and nose follow the treat, his bum will automatically go into the sit position. Praise him for sitting, release, then give him the reward.
Down
Your dog must first be able to sit on command before you teach him to lie down.
Get your puppy to sit. Once he is seated, do not release him or give him the treat. As you command him to go down, slowly move the treat to the ground, while keeping it in front of his nose. He will lie on his tummy while trying to get at the treat in your hand. Praise, release and treat.
Stay
Stay means just that – you're dog is to not move from the sit or down position until you release him.
You will need a leash for this command.
Start by teaching a sit stay. When your dog is seated, do not give him the treat. Instead, tell him to stay. When telling him to stay, with the leash in one hand, put the other hand in the stop position (palm facing the dog) and walk a few paces away from him. Hold the stay for only a few seconds, then praise, reward and release.
Gradually increase the distance between you and your dog as well as the duration of the stay.
Come
'Come' is the most important command you can teach your dog as it can save him from potentially dangerous situations.
When giving the sit, down, heel or stay commands, use a stern voice. However, when teaching and using 'come', do so in a very happy voice. Dogs are much more apt to come to a person who sounds happy than one who sounds angry.
With leash in hand, face your dog and step away from him. Before he automatically comes to you, happily call him to come by using his name i.e. 'Fido come'. Lavish him with praise and a treat.
If you have a hallway in your home and someone to help you, have your dog stay with the other person at one end of the hall as you go to the other end. When you get there, call your puppy. As he comes towards you, praise him. When he gets to you, continue the praise and reward.
As your puppy becomes more reliable in coming, you can call him from different parts of the house. And when he comes 100 per cent of the time, you can let your dog off leash in a contained dog park.
Heel
There is nothing worse than your dog taking you for a walk. When we teach dogs to heel, we want them to walk right beside us, not in front or behind.
Put your dog on your left side. Hold the end of the leash in your right hand, while your left hand holds the leash partway between you and the dog. Keep some slack to the leash.
As you start to walk, use your dog's name in conjunction with telling him to heel, i.e. 'Fido heel.' If he does not automatically walk beside you, give him a quick jerk with the leash to correct him while telling him 'no.' Then try again. You may have frequent corrections in the beginning.
When your dog does heel, even if just for a few paces, praise him. He needs to know what is expected of him in order to continue doing it.
Another method to teach your dog to heel is to hold a treat in your left hand – the dog will want to sniff the treat, therefore, walk beside you while sniffing it. After a few good heel paces, treat him.
Rewards
When training with treats, there will eventually come a time when they are no longer necessary. Instead of going cold turkey with the treats, give them to him every three to four times he successfully completes the command. Eventually he will do what you ask of him just for the praise.
You might also like...