Troubleshooting for Clicker Training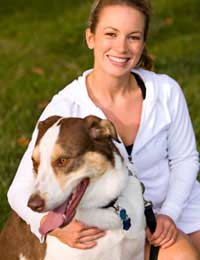 Clicker training is a form of reward-based, marker training which has grown in popularity over recent years as a powerful way to communicate with animals and get them to perform complicated behaviours voluntarily and on command, without the need for intimidation or force. It is what is used to teach all those clever tricks performed by animals in TV programmes and in films, as well as what has helped zoo-keepers around the world teach their wild charges to submit for examination and treatment. It is now also used by many pet owners to train their dogs and achieve a well-mannered pet.
However, like any skill, clicker training can take some time to master and for those starting out, certain doubts may arise. Here is a list of common questions about clicker training:
My Dog is Terrified of the Sound of the Clicker. What Should I Do?
Some dogs are very noise sensitive and so may find the loud CLICK of the average box clicker slightly alarming. You can now purchase specially designed clickers which emit a much more softer sound. Alternatively, a cheaper option is simply to muffle the sound of your normal box clicker by wrapping a cloth around it or putting it in your pocket before clicking it.
My Dog Still Keeps Flinching at the Sound of the Clicker. Do I Have to Use it? Can I Use Something Else?
Clicker training is a form of marker-based training. This means that a clear, consistent sound is used to mark the moment the 'correct' action has been performed, so the dog knows exactly what it is being rewarded for. Therefore, any clear, easily reproducible, consistent sound can be used as the marker. If your dog is frightened of the noise made by the clicker, then you could try a verbal marker, such as the word "Yes!" However, for this to be effective as a marker, try to make sure that you always say it with the same tone, speed and inflection and don't inject it with any emotional overtones, no matter how frustrated or jubilant you are feeling with your dog.
My Dog Just Ignores the Click. All he Wants is to Get to the Food in my Hands.
This means you have not done the "charge the clicker" exercise properly and your dog has not made the right associations with the sound. A dog that really understands what the clicker means will be completely focused on eliciting that sound through his actions because he understands that a reward (treat) will not be forthcoming until he hears the click. So go back and make sure that your dog has made a strong association between the sound of the CLICK and the reward. Don't ask your dog to do anything – simply CLICK and reward several times in a row, until the dog as made the association.
If your dog find the treats too distracting, don't hold them in your hand. Keep them in your treat pouch or your pocket so your dog can't see them and only take them out AFTER you have clicked. As long as you reward the dog within 10 seconds of the click, he will still understand the association.
My Dog Just Looks at me Blankly When I'm Trying to Teach him a Trick. He Doesn't Offer any Behaviours for me to mark.
Your dog is confused about what he has to do or has lost confidence. Many pet dogs are so used to being ordered around by their owners constantly that they forget how to think for themselves or don't have the confidence to try out new things. So start clicking and rewarding your dog for any small thing he does – even if it's just a half a head turn to the right or a slight dip of his head towards the ground. He will start to realise that he gets rewarded when he does things and this will encourage him to try out more actions to try and elicit a click and reward.
My Dog isn't a Puppy Any More – Can I Still Start Clicker Training?
Of course! Dogs can be trained at any time and most dogs take to clicker training very quickly and enthusiastically, Just be aware that with an older dog, there may be some ingrained habits that you have to overcome (see question above) or he may not be used to thinking for himself and therefore learns slower than a puppy. But like all things, you will get better with practice and the more clicker training sessions you do with your dog, the faster he will pick things up.
You might also like...