Discovering Sex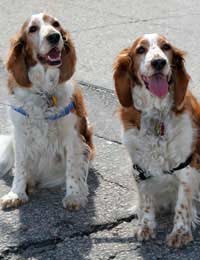 It doesn't seem five minutes ago that you brought home a cute little puppy only months later that cute bundle of fun is a sex machine ready to breed at all costs!
Baby
You may think of your little bitch as still a baby but from the age of six months in some breeds the bitches are experiencing their first season. Let her out of your sight at the optimum time and nine weeks later your little baby will be having her own 'little babies!'
Veterans
Your bitch is now a veteran in the dog world; we are often told that one dog year is equal to seven human years. So, at the age of seven (the Kennel Club rates a dog as at 'veteran' when it reaches the age of seven years) your once young bitch is middle aged. Don't middle aged women have the menopause where they can no longer conceive? It must be the same for your dog – WRONG! Bitches can mate and conceive for the full length of their lives. As much care should be taken to avoid an accidental mating at the age of seven as the dog owner would when the dog is nine months of age.
Cycle
We've already established that bitches can come into season from the age of six months. Speak to the breeder of your puppy he can advise on the age this will be with your puppy – quite often the bitches in that line have similar cycles. Bitches will come into season on average every six months.
Next stage
When a bitches season starts she will pass blood, sometimes this is very little and many bitches will clean themselves so thoroughly that you may not be aware her season has started. It is not uncommon for bitches to be a little temperamental leading up to her season. This bleeding can last up to 12/13 days where upon it will clear and the next stage is reached. Dogs will become interested in her during this time but she will be unwilling to mate.
Swelling
As the blood clears so the vulva will start to swell, in some bitches this is more noticeable than in others. She is now ready to mate and can be in this stage from a couple of days to a week – again this depends on the breed and the lines that she comes from. Once this stage is over the bitch cannot be mated from until her next season.
Rules
Normally a bitch will not be mated until her third season when she is deemed as mature. The Kennel Club will not accept registrations from bitches over the age of eight years or from bitches that have had six litters. Anyone that has a dog registered with the Kennel club has agreed to abide by their code of ethics.
Breed Clubs
Many breed clubs have their own code of ethics concerning breeding and the age of the bitch.
Stud dog
A dog can mate a bitch and impregnate her from an average age of eight months onwards. He should never be used at this age, as he is too immature and would not have had his health screenings. When a dog is first used at stud it is advisable to put him to an experienced bitch, as she will be more receptive.
Spay or Neuter
If you don't intend to breed from your bitch or use your dog at stud it is advisable to consider having them spayed or neutered.
You might also like...