Crate Training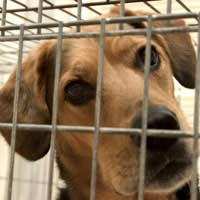 When you prepare to bring a new puppy into your home one of the first questions you have to ask yourself is: are we going to crate train him? Your breeder, puppy school instructor and fellow dog owners will probably all sway you towards crate training, for good reason.
What is it?
Crate training is designed "to provide a secure, short-term confinement area for safety, housebreaking [and] protection of household goods," according to Leanne Gossett of Bark Bytes.
Crates, whether they are plastic, metal or wooden, when used correctly, create a safe haven for your puppy. "Dogs have a den instinct," adds Gossett. "The dog crate helps to satisfy this instinct."
When it comes to house training, crates help move the process along as dogs have a natural instinct to not soil where they sleep. The crate, when the correct size, encourages your dog to control his bowel movements and become accustomed to toilet break routines.
Crates are also very useful for when you are not able to keep a constant eye on your puppy – he will get into trouble if you let him loose in the house. A crated dog is not able to eat your table legs, chew on the sofa or defecate on the rug. Think of the crate as a playpen for dogs.
"Crating a puppy or dog over night, or when the family is away during the day, also administers a passive form of discipline by preventing an energetic, curious dog from chewing up human belongings or electrical cords," reports the Dog Owner's Guide.
Crating a Puppy
If your puppy was not crated at the breeder's, introduce him to the crate over a period of a couple days. Leave the door open with a few toys inside it. Every time he goes into the crate on his own to get or toy or just inspect the space, give him a treat.
Use your puppy's nap times to help crate train. When you see he's ready to nap, bring him to the crate – bribe him with a treat if you want, in order to get him into the crate. When he goes into the crate to get the treat, close the door behind him. He may initially scream, cry and whine. That's ok. But because he is already tired, he will quickly quiet down and go to sleep.
One to two hours later, or when your puppy wakes up, take him outside immediately for a toilet break and then enjoy some playtime together.
Size
The crate must be large enough for your puppy to stand, turnaround and stretch out in. For people who get a puppy who will grow into a large dog, get a crate that enables you to put a divider in it – this will save you from buying numerous crates throughout the crating period.
Do not use a laundry room, bathroom or spare bedroom as a crate – they are too big as they have enough room for the dog to do his business and sleep elsewhere, which negates the whole house training purpose of crating.
As the puppy gets older, housebroken and trustworthy enough to not eat the room's contents, then he can move out of the crate and into a small room. But be prepared to have him go back in the crate if he has accidents or chews the walls – he's just not ready for that much space yet.
Set Up
You want to confine, but not isolate, your dog. Therefore, the crate should be placed in the main living area of the house – like the kitchen or family room. But make sure to keep the crate away from drafty areas and direct sunlight as well as from heating vents.
Drape a blanket over the crate as this will help mimic the den effect. Keep children away from the crate – the dog must know this is his safe place and that he is able to go in there at any time, especially when children won't stop playing with him.
Do not leave a food or water bowl in the crate – it will only get knocked over and create a mess.
Take the dog's collar off before he goes into the crate - dogs can choke themselves if the collar becomes stuck to any of the crates bars or closures.
Put only safe toys in the crate, which are virtually impossible to destroy. Do not leave rawhide chews in the crate as he can choke on the pieces. As well, do not leave any soft toys in the crate as puppies love to tear toys apart and eat them. Portions of a plush toy, including the squeaker, can be ingested by the puppy and cause him to choke.
You might also like...