Dog Issues When Your Marriage Ends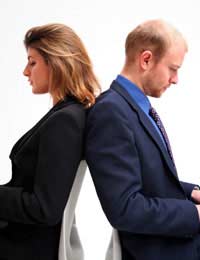 When marriages and partnerships end it is not just the children that suffer. The family dog or dogs can also get caught up in the stress of the household and be a casualty in the eventual breakdown of the marriage.
Arguing
Constant arguing and stress in a household can affect the temperament of the family dog. His owners may strike out at him or even ignore him whilst their lives are in turmoil. A dog still needs his daily walks, food and attention. Failure to so this can lead to a dog misbehaving, damaging furniture and generally being naughty. Try to remember that your dog is very sensitive to changes in the home and any household issues that cause a strain in the atmosphere are sure to unsettle him.
Obedience
A dog that was fully trained since being a puppy can forget all forms of obedience when faced with screaming adults, tears and possibly fighting. Doors slamming, people leaving home and forgetting him will lead to all sorts of problems with a dog. It is even possible the dog may attack and bite if he feels that either of its owners are being hurt. Perhaps it's time to think of rehoming the dog, if only for a short time whilst the marriage problems are resolved.
Kennels
Putting the dog into kennels may be a short term solution whilst its owners are either resolving their issues or one is moving out o the family home. Dogs that are packed off to kennels could become even more confused and feel unwanted. It is possible for dogs to become depressed and undergo a change of personality.
Family
Is it possible that you could board your dog with a member of your family? Perhaps someone he knows will take him on for a few weeks so that he is loved, fed on time and exercised. If this is possible remember to visit him and make an extra fuss of the dog so he is not forgotten.
Puppy
It is also worth remembering that buying a person a puppy will not resolve marriage problems and the puppy could become a casualty of a failed partnership and require a new home before he is even out of puppyhood. Even if your marriage issues are all consuming you must still find time for puppy training, attending classes and training him in basic obedience.
Rehoming your Dog
Perhaps there is no hope for the marriage and the dog's owners will both go their own ways and have to leave the family dog for long hours due to work commitments. It is worth seriously considering finding a permanent new home for your dog or puppy. If you do not have family to take on the dog first go back to the dog's breeder. He or she will fully understand your circumstances and do their utmost to find a new home for your dog. If this fails or you do not have contact with the breeder go next to your breed club who will be able to link you with a person who not only loves the breed but is prepared to take on a confused dog that could have picked up a few bad habits during the marriage breakdown.
Dog Charities
There are major charities that will take in your dog but please use this as a last resort. Some of these do not match the dog with the best of owners and the poor animal could lead a life of being moved from bad home to another bad home.
Money
Under no circumstances should you offer your dog for home and request a sum of money for him. He is not a commodity and yes, you may have paid hundreds of pounds but he is not something to profit from. He just needs a good caring home. Also ensure that the dog is neutered so that he or she does not fall into the hands of unscrupulous breeders.
You might also like...