Raw vs. Commercial Food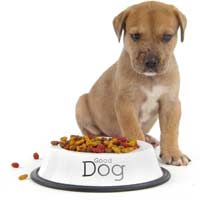 You're getting a new puppy and need to decide what to feed it - a raw diet or a commercial food.
Proponents of both diets are very passionate about the benefits of their respective diets. Therefore, it is important to look beyond all this and put your dog's health first. You should also consult with your veterinarian and/or breeder to help determine which diet is best for your dog. And don't forget to research the pros and cons of both diets.
Raw Defined
What is a raw diet? Just that - it is feeding your dog raw vegetables, meat and bones. But do not confuse this with feeding your dog table scraps. The raw diet has a very specific ratio of veggies to meat to bones in order to maximise the diet's benefits.
Those who follow the raw diet do so because it mimics what dogs eat in the wild. A wild dog would consume virtually all of its prey, without cooking it, whether it is a bird, mouse or rabbit. Each part of the prey's carcass contains nutrients.
The flesh provides the dog with a main protein source as well as vitamins; fat provides the dog with energy; the bones are filled with calcium and minerals; the skin is a source of roughage, while the prey's stomach contents contain plant material such as herbs, grains and grass.
The most common raw diet is the BARF diet - Biologically Appropriate Raw Food. "This diet consists of raw meaty bones, vegetables, offal (the organ part of the protein source), recreational bones and proteins like cottage cheese and eggs with the shells," according to I Love Dogs.
Problems with Raw
For all of its benefits, the raw diet is not without its problems. "Bones present a particular problem, particularly chicken bones," reports John Hilton of Veterinary Medical Diets. "They stick in the throat whether they are cooked or not."
Salmonella and e.coli, both of which can be found in raw meat, pose real problems to the dogs, as well as to food handlers. Parasites can also be present in raw meat, however, according to Worldwise. "All animals have parasites in their intestines all the time. They only becomes a problem when the digestive tract is not working properly."
One way to avoid the parasite issue is to simply freeze the meat into daily portions, then thaw and serve. Worldwise also recommends adding the meat's juices to the food bowl as it too contains beneficial nutrients.
Components
Along with raw bones and veggies, the raw diet also contains grains. While some of the lower-end commercial foods contain a lot of grains, the raw diet, along with the better commercial food, contain minimal amounts of grains. Grains from prey (their stomach contents) constitute only about 10 per cent of the dog's daily nutrient intake, as they can be very difficult to digest.
To put grains into your dog's diet, use raw, organic whole grains. Do not cook the grains in order to soften them up, as they will lose much of their nutritional value. Instead, soak them in filtered water for 24 hours.
Fruits and vegetables should be cut, grated and served in small amounts as dogs do not have the ability to digest large amounts of plant food.
A good raw diet will also include raw garlic - about ¼ clove is needed for every four pounds of your dog's body weight. Garlic helps to repel fleas as well as controls parasites and worms.
Transitioning to Raw
Just because you currently feed your dog a commercial food does not mean you are not able to switch him over to a raw diet.
The transition must be made gradually as the dog's body needs time to adjust to the raw food. Start by adding small amounts of raw food to his existing food over a few weeks' time. Most dogs, when transitioned properly, enjoy the raw diet and do very well on it. However, generations of breeding have altered dogs greatly from those found in the wild. So if your dog does not like the food or does not appear to thrive on it, discontinue the raw diet and return to his former food.
You might also like...