Nutrition for Puppies, Adults and Seniors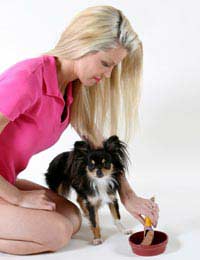 Choosing the best food for our canine companion is one of the most difficult things to do. There are so many brands with so many claims: 'balanced nutrition'; 'high in protein'; 'all natural'; and 'fortified with vitamins and minerals'.
It would be much easier if one brand was deemed to be 'the one' for all dogs, or even for all dogs of a specific breed. But that is not the case, so dog owners have to do some research.
Read Labels
The first step in figuring out which food is best for your puppy, adult or senior dog is to read the ingredient label. According to the Pet Center, it is better to feed a dog, no matter its breed and life stage, a meat-based diet, versus a vegetable-based food. How do you know if a food is meat or vegetable based? Check the first three ingredients listed. For example, if the label has beef or beef meal as the first ingredient, then the food is meat-based. If the label has corn, wheat or rice as the first three ingredients, then it's a vegetable-based diet. A good quality food will have at least two animal-based proteins within the first five ingredients.
The veggie-based foods are generally cheaper per bag, however, the food will end up costing you more than a meat-based/higher priced bag because you will have to feed your dog more vegetable-based food per meal in order for your dog to meet its nutritional requirements.
Feeding a poor quality diet can lead to nutritional deficiencies as well as potential behavioural problems. "Cheap ingredients are less efficiently digested, there's more fecal waste production and the dog won't be as healthy as when fed a higher quality (meat-based) dog food," reports the Pet Center.
Ingredients
Proteins are the body's building blocks. They contain amino acids, which are necessary for growth and repair. Very little protein is stored within the body. Whatever excess protein the body does have is excreted via the kidneys. Food which has a guaranteed analysis will have nutritional information on the packaging, 22 per cent protein is sufficient for an average dog. If there is more than 22 per cent it will only be flushed out the body.
Meat proteins, the best proteins, are comprised of organ or muscle meat and are the closest to human quality meat protein. Animal proteins can be made up of any part of the animal - hair, hoof, lips and even eyelashes. Crude protein comprises of all animal and grain source proteins.
Vegetable or grain proteins - soy or gluten meal - should be avoided. These are unusable proteins and can stress the kidneys.
A dry dog food with a minimum of five per cent fat is required for optimal growth and reproduction, as well as maintenance of healthy skin and coat. Fats also help with inflammation and immune system regulation.
Fats help puppies release a steady level of energy throughout the day. They also mobilise digestion and stabilise the body's temperature.
Fats found in some dog foods, that are of no consequence to the dog's nutrition, include chicken fats, sunflower or canola oil, fish oil as well as lactose-free dairy products.
Corn, soybeans, rice and wheat all are carbohydrates. The source is unimportant, however, they should not comprise more than 50 per cent of the dog's diet.
Too many carbohydrates can lead to bloating, an upset stomach, constipation and/or too many stools.
Vitamins and Minerals
Most high quality dog foods contain a sufficient amount of vitamins and minerals, therefore, supplementing isn't necessary.
There are two types of vitamins - fat soluble (vitamins A, D, E, K) and water soluble (vitamins B and C). A deficiency in any of these vitamins can lead to poor growth, digestive and elimination problems, poor eating, a weakened immune system and smelly fur. Extreme deficiencies can lead to Addison's disease, thyroid malfunction or sterility.
Minerals help the body perform its daily functions such as circulation and energy and cell regeneration.
There are two types of minerals - elemental and chelated. Elemental minerals are derived from the earth and are difficult to digest because they cannot be broken down. Chelated minerals are found in organic matter and are easily broken down.
Puppies
When it comes to puppies, a diet with a good balance of protein, fat, carbohydrates, vitamins and minerals, is all that is required. Choose a dry food designed for puppies, but be sure to avoid brands that push a high protein diet. According to Wing-N-Wave Labradors, high protein amd high calorie diets can increase a puppy's risk of skeletal disease.
Senior Dogs
As dogs get older they slow down and so does the body's ability to process its food. Therefore, dogs older than seven years, which is the age dogs are generally considered to be seniors, require diets that put less strain on the kidneys and are that lower in fat.
Allergies
Symptoms your dog may be allergic to his food include: ear infections, hair loss, paw licking, face rubbing, head shaking, diarrhea, gas, sneezing and vomiting.
Hypoallergenic diets use a single protein source - lamb, venison, rabbit or fish, which are generally not found in traditional dog foods. These foods also use a single carbohydrate, generally rice. However, it is important to choose the appropriate diet in consultation with your vet.
Another way to help stave off allergies is to use stainless steel food and water bowls. Clean these bowls with anti-bacterial soap or bleach on a regular basis.
You might also like...