Tackling Animal Separation Anxiety: A Case Study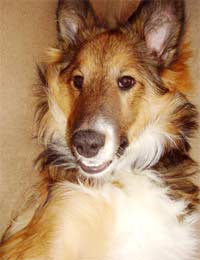 Tricia had rescued Sheba the Shetland Sheepdog from a dog pound and felt very sorry for the nervous little dog. After bringing Sheba home on the weekend, she made her as comfortable as possible with her own bed, toys, chew treats and lots and lots of fuss and attention.
Come Monday morning, Tricia set off to work believing that the little dog would be fine with all the treats and toys around her. But when she arrived home that evening, she was dismayed to find the house in a horrific state.
"It was as if a tornado had hit the place," Tricia said disbelievingly. "Sheba had pulled everything out and chewed things – the furniture, the walls, even the corner of the front door! I couldn't believe that such a little dog could do so much damage!"
Hoping that it was just a one-off incident and that the little dog would grow used to being on her own, Tricia cleaned up the mess and tried to put it out of her mind. But things did not get better. Each evening, Tricia came home to find the house in a state and more and more things chewed and destroyed.
By the end of the week, she couldn't take it anymore and rang up her friend, Abbie, in despair. Abbie had owned dogs all her life and was very experienced in all aspects of canine behaviour. She had a particular interest in training and canine behaviour and always kept up to date with the latest research and training methods. When Abbie heard about Sheba's behaviour, she sighed.
"Sounds like a case of separation anxiety to me," said Abbie. "It can be quite hard to treat and you may need to get the help of a canine behaviourist. But there are some things you can try first, if you like, which might help. Since you've only just got Sheba and she is still new to you, she might be more open to change because she hasn't had time to form long, bad habits with you yet."
Solution:
Abbie suggested several areas where Tricia could change her behaviour to help reduce Sheba's separation anxiety and Tricia eagerly set about following her suggestions:
Tricia took some time off work and used it to practise leaving Sheba for longer and longer periods. First, for example, she would simply walk out the front door and then immediately come back in. Then, as Sheba seemed to get used to this, she would gradually extend the time she was outside the front door before returning – 2 minutes, then 5 minutes then 10 minutes, and so on until she was able to leave the house for half an hour and then a whole hour, without Sheba showing much signs of distress or destroying anything.
Tricia would go through the routine of leaving the house several times without actually leaving, so that Sheba gradually became desensitised to these "triggers", such as jingling keys, putting on coats and shoes, picking up handbags, etc.
If Tricia was really leaving, she would not make any fuss of Sheba but just go quietly and calmly. Similarly when she returned – she would just walk in calmly and ignore Sheba for a few minutes, particularly if the little dog was crying, barking or jumping up. Many owners make the mistake of having dramatic goodbyes and hellos and this only serves to increase a dog's stress levels, particularly if it is already nervous about being left alone. By making departures and arrivals no big deal, the dog soon takes its cues from the humans and also treats them as no big deals.
While she was working up to leaving Sheba for longer periods, Tricia still needed somewhere safe to keep Sheba when the little dog had to be left in the house for long periods. She didn't dare just leave her loose in the house anymore. So Tricia introduced Sheba to a crate and made it a "safe haven" for her – somewhere comfortable and safe that she could retreat to. By feeding Sheba her meals in the crate and rewarding her with treats and toys whenever she went in there voluntarily, Tricia helped the little dog associate the crate with good things. Then when she had to go out and leave Sheba alone in the house for longer periods, she could shut the little dog in the crate and leave, safe in the knowledge that Sheba could not destroy anything in the rest of the house. NB. Dogs cannot be left in crates for longer than a few hours so if you are using crates, you must arrange for someone to come to the house and let your dog out periodically for toileting, stretching legs and other necessary behaviours.
Once Sheba was coping well with being left loose in the house for longer periods, without destroying anything, then Tricia could start leaving the crate door open all the time. However, she found that Sheba often chose to go and sleep in the crate, even when she had the run of the house. It was now her "den" and helped to increase her sense of security.
Tricia also invested in some interactive dog toys to occupy Sheba during her time alone – such as the Kong and the treat ball. These both involved tasty treats like peanut butter, liver and dog biscuits being stuffed into the toy which the dog then had to spend a lot of time and effort trying to extract. These toys were only given to Sheba when she was left alone – to keep them special.
Tricia was delighted to discover that just by implementing these suggestions, she quickly saw a change in Sheba.
"She seems like a much calmer, happier dog now. Before, she always seemed so anxious and nervous about everything and was always acting up, especially when I returned home. But now – she seems so much more confident and settled," said Tricia. "It was hard work in the beginning," she admitted. "You needed so much patience and I almost gave up so many times – it seemed such slow progress, having to repeat going out and coming in so many times and having to count the minutes I was leaving her…but it's worked and that makes it all worthwhile.
Sheba loves her crate now and is completely fine when I leave the house in the mornings. In fact, I think she almost looks forward to her solitary periods as these are the only times she gets those special toys with the yummy special treats!" laughed Tricia.
You might also like...