Teach Your Dog Affectionate Tricks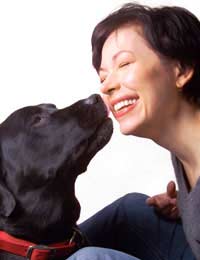 Everyone loves affection, especially from the family dog. Here are a few tricks you can teach your dog. These are not the simplest of tricks to teach your dog as a lot depends on catching your dog in the act of doing something and then having him associate the proper verbal cue with the action. Be patient and your dog will eventually do these tricks.
Show Shame
The purpose of this trick is to get your dog to cover his eyes with one paw, on command.
Put your dog in sit or a down position. Down may work better for balance purposes. With a treat in your hand, tell your dog to 'show shame.' Nothing will happen, at first. Physically pick up his paw and place it over his eye or muzzle, while repeating the 'show shame' command. Praise and reward. Keep repeating this exercise until your dog covers his eyes or muzzle on command.
Another way to get your dog to 'show shame' is to gently blow on his nose. The slight irritation to the nose may cause your dog to swipe at his muzzle. When he does this, praise and reward him. Keep repeating the exercise until your dog associates the verbal command with his action.
Say your Prayers
The end result of this trick is when you say 'say your prayers' your dog will put his head on the chair or side of the bed, between his paws. When you say 'amen' your dog will end his 'prayers.'
To get your dog into the first position - head between paws and on the chair, encourage your dog to put his front paws on the chair. Note - the dog must remain seated while his paws are on the chair - this pose resembles that of 'sit pretty' or 'beg.'
Put a treat on the chair and command your dog to leave it. The dog will eventually lower his head between his paws to stare down the treat. As soon as he does this, give the command 'say your prayers.' After a few seconds of your dog having his head on the chair between his paws, release him with the verbal command of 'amen.' Praise and reward.
If your dog won't freely put his front paws on the chair, stand behind him and place them on the chair for him, then guide his nose between his paws with the treat.
No matter the method you use, ensure the chair is not on a slippery surface, otherwise the dog will end up pushing the chair forward and not be able to comfortably place his head between his paws.
Give me a Kiss
Every time your dog licks your face, say 'give me a kiss.' He'll be giving you kisses on command in no time.
However, if your dog is not one to lick your face, put a bit of peanut butter on your cheek and say 'give me a kiss.' When he licks the peanut butter off, say 'give me a kiss.'
Yawn
Every time your dog yawns, give the verbal command for yawning such as 'give us a yawn' or 'are you sleepy?' If he hears the same command each time he yawns, he will eventually associate the action with the verbal cue.
You might also like...